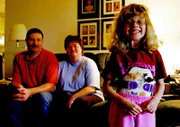 DALLAS -- Sabrina Harustak was 3 years old when Tami
and Rick Harustak adopted her. Now 7, Sabrina is bright, funny and curious about her world. She's learning to play the piano and loves to collect polished, brightly colored rocks.
"She has got such a spirit to her," Tami said.
"I don't know how to describe it, but she's always happy. I mean, you can tell when she's grumpy, but even then she's so warm. Everyone who meets her notices it. It's so easy to fall in love with that little girl."
Tami and Rick don't have any other children. Sabrina was going to be their first adoption, but quickly turned to their only adoption when the process stalled and became too expensive.
"She's more of an only-child type anyway," Tami said while watching Sabrina crawl into her father's lap to help him blow bubbles to the living room ceiling.
Rick holds the frail, blonde child on his knee and sends a stream of iridescent bubbles into the air.
Sabrina squeals, "Look mommy! Look at the bubbles."
Tami stops her conversation and watches as Sabrina leans forward to catch the orbs in her tiny fists.
The back brace she is wearing makes her movements stiff, but she doesn't seem uncomfortable. She has been wearing it since an emergency operation two weeks ago.
Before that, Sabrina had been suffering back pain. Her parents thought she had wrenched her back falling, as kids will sometimes do. They thought it was probably something simple that would get better with time.
But the pain got worse.
Soon, Sabrina stopped walking upright -- then she stopped walking altogether. Her alarmed parents took her to a doctor, who referred them to Oregon Health Sciences University in Portland.
"It had only been a week or so before she got that bad," Tami said.
"As soon as we took her up there they set up an emergency operation," Rick said.
A tumor had wrapped itself around Sabrina's spinal cord. "That's why she couldn't straighten up. They had to operate immediately to save her legs, that's how progressive it is,"
the girl's father added.
Sabrina had gone quickly from being a healthy child to one with a bleak diagnosis: glioblastoma, grade four, extremely aggressive.
"With that kind of cancer, it always grows back. Treatment doesn't affect the outcome of the cancer ... they told us about 12 months, maybe more with treatment to slow it," Tami said.
The emergency operation helped. Sabrina is able to walk. She has a slight limp, but doesn't seem to be in any pain, for now.
She hasn't been in school much, and her teachers and friends miss her. Kiva Lyell, a staff member at Sabrina's school (Luckiamute Valley Charter Bridgeport Campus) said the community wants to do it they can to help Sabrina.
Tami and Rick are grateful, but it's all so overwhelming.
"That's really one of the hardest parts," Rick said.
"We are very independent. It's hard to accept help from people -- you just have to learn to take what is offered and say thank you. It's not easy."
"It has been a very humbling experience," Tami agrees.
"We have no words... . People we have never met, who don't even know Sabrina, want to help. In the end, it does help -- you feel a little more free, because you don't have to worry about as much stuff. We can focus on Sabrina."
The Harustaks don't even know what fund raisers are being planned for them, or how many.
"We ask, but people just smile and tell us not to worry about that," Rick said.
So, they focus on Sabrina. Last week they had to take her back to OHSU. The doctors had discovered another tumor in the girl's abdomen. Sabrina took it all in, asked a ton of questions, and charmed her caretakers.
Then she came home and had her first piano lesson.
--
TO HELP SABRINA
A barbecue fund raiser for Sabrina Harustak will be held from 4:30 p.m. to 7:00 p.m. on Saturday, June 10, at Bridgeport School. Admission is $5 for adults and $3 for kids.
Bridgeport school is at 17475 Bridgeport Rd in Dallas. Please call Kiva Lyell at 503-623-4837 so organizers will have a head count.
Hank Kliever's Floor Covering will sponsor car washes in a few weeks, and a Sabrina Harustak medical fund has been set up at Bank of America.
For more information: Kiva Lyell, 503-623-1272.