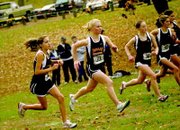 ALBANY -- Dallas didn't get everything it wanted Oct. 28 in the Mid-Willamette cross country meet at Bryant Park.
Still, it was hard for the Dragons to be too disappointed.
Joe Crawford finished fourth overall and became the first Dallas boy to qualify for state in Monique Lankheet's 11 years as head coach. He will be joined Saturday, Nov. 4 at Lane Community College in Eugene by teammate Chelsea Wiens. She also took fourth, earning her second straight berth in the state meet.
The disappointing aspect of the meet was the Dallas boys narrowly missed finishing in the top two and becoming the first Dallas team to qualify for state in many years. The Dragons finished third with 68 points, trailing Corvallis and Silverton (62 point).
A cumulative time for each team was included in the results. and Dallas' boys finished eight total seconds behind the Silver Foxes.
"We were dead last as of Oct. 4 in the league," Lankheet said. "From then to district, they just worked so hard. They made (reaching state) their goal the entire season. I'm proud of them. They did a great job following through on that goal.
"This group of boys in particular was very confident but not in a cocky way. They thought if we ran well, we had a shot at second. They all ran their hearts out. They were just dead at the end. They just came up a little short."
Crawford finished the 5-kilometer course nestled along the banks of the Calipooia and Willamette Rivers in 16:49. Teammate Nate Anderson took ninth in 17:18.
Other finishers for Dallas on a sunny but clear afternoon were Ty Tietjen (15th, 17:39), Brian Woitte (19th, 17:50), Robert Senter (21st, 17:59), Gauje Rush (26th, 128:08) and Steve Austin (45th, 20:01).
Wiens was one of 14 Dallas runners who set a personal record, finishing in 19:27.
"Chelsea competed really well throughout the season," Lankheet said. "She maintained a lot of poise. She just ran her race and did really, really well."
Dallas' Dakota Magden was the second freshman to finish in the varsity race, taking 16th in 21:35.
"It will be kind of fun to watch her develop," Lankheet said. "She's shown a lot of poise, too. She's going to be a good one."
Wiens and Crawford plan to shoot for new PRs at state, but it will be far from easy. The course at Lane is considered to be a bit slow, and runners will have to contend with a much larger field of competitors than they've seen all year.
"I know they want to improve against the other runners in our league," Lankheet said. "It's going to be a great experience, and I know they're both looking forward to it. They both want to improve their times, but it's kind of a slow track with lots of slow surfaces and hills. We'll see what they can do."
Matt Pride led the Dallas junior varsity, taking 21st with a time of 20:12. He was trailed by James Holton (27th, 20:33), Ben Hamilton (39th, 21:17), Matt Osborne (52nd, 22:49) and Chris Clothier (54th, 22:55).
Amanda Bruesch ran a 25:14 and finished 15 for Dallas in the girls junior varsity race. She was followed by Emily Buchan 17th, 25:26) and Kerry Green (34th, 27:34).