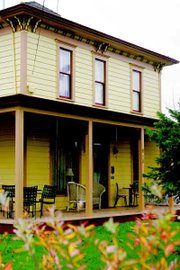 INDEPENDENCE -- Cheryl Gaston's daily routine has changed a lot during the last two months.
When she was head of Western Oregon University's public relations department, her days were spent orchestrating special events on campus or directing the flow of information from administrators to the media and community.
Gaston woke at dawn just to sort through the daily flood of e-mails.
She still rises early. Only now, it's to make beds and cook breakfast.
Gaston ended a 30-year career in public relations in September to turn her hobbies -- entertaining company and antique collecting -- into a job.
She converted her historic home at the corner of 6th and Monmouth streets into a quaint bed and breakfast. The hope is that "Independence House" becomes a getaway destination for visitors to the area's wineries, antique stores and other attractions.
"I've found a whole other side to myself," said Gaston, 62. "This is what I want to do."
A New Jersey native, Gaston has been involved with public relations since the mid-1970s. She ran her own marketing firm on the East Coast and later headed PR departments at universities in New Jersey, Georgia and Iowa.
She was hired by Western in 2004. As a fan of historic homes, she purchased the Charles Mattison house at 615 Monmouth Street not long after moving to Oregon.
It was built in 1895 by Charles Mattison, a farmer and property developer. The Victorian Italianate-style dwelling is currently listed on the state's historic registry and contains many of its original architectural features, such as the tall first and second floor windows.
Gaston said she was happy at Western, and that decision to become an innkeeper was made on a whim in June.
"I woke up one morning, wondering what I could do with this house," she said. "And that's it, it sounds ridiculous, but it's the truth."
During the summer, Gaston had wiring work and minor interior renovation done on the house, and the entire exterior repainted.
She scoured antique shops for items that would add to the home's turn-of-the-century appearance.
The biggest project was readying the upstairs bedrooms and a shared bathroom for visitors. Two guest rooms are decorated in a Victorian style and sparsely furnished with old armoires and wardrobes.
A third room, with its alabaster hue, wicker furniture and closets crafted from antique steamer trunks, was inspired by one of her favorite vacation spots in Cape May, N.J.
Gaston, who will live on the first floor of Independence House, said the venture will fill a guest lodging void in the area, and will appeal to out-of-towners visiting Western Oregon University or touring Polk County's vineyards and antique shops.
She is pursuing business relationships with some area wineries and antique dealers, and intends to host small musical events and wine tasting during summer months.
Despite its size, Independence has the necessary elements to make the business work, Gaston said.
"I needed a town that was by the river, had a historic district and a lively sense of regeneration," she said. "My goal is to help add to Independence as a destination. I love this little city."
Gaston is now a couple of months removed from the successful PR career that earned her numerous awards. But she doesn't miss it.
"I walked away from 30 years of professional executive work," she said, "and I'm at my happiest now ironing pillows."
Independence House features three guest rooms and a maximum occupancy of six to eight. The rate is $95 per night for double and single rooms, including breakfast.
For more information or to make reservations: www.independencehousebb.com or contact Cheryl Gaston at 503-838-0612 or via e-mail at innkeeper@independencehousebb.com.