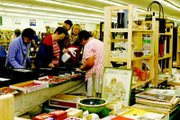 RICKREALL -- Six years ago a member of the Polk County Fair board called Deb Larson.
A few days before, after learning that the fair board was raising vendor fees, the Rickreall Flea Market director had walked. The monthly flea market was coming up that Sunday, and there was no one to organize the setup and takedown -- or take care of advertising, or call vendors.
The board asked Larson to step in.
Larson had been a vendor at the decades-old Rickreall market, and her mother had been one of the organizers of a Salem market.
"It was a little overwhelming. I had been going to flea markets since I was a kid. I had been a vendor for years. I knew what needed to be done, but still, I had only days to organize more than a hundred vendors," Larson said.
For Larson the flea market holds sentimental value, and she couldn't stand the thought of it closing. Even still, she wasn't sure she wanted to take on the role of director. So she said she'd oversee that first market, but didn't make any guarantees she'd continue.
A story ran in the Statesman-Journal newspaper saying the market, a 30-year tradition, was going to close. It spurred a record-breaking turnout that month.
"People came for deals and to see it for the last time ... for a lot of the older people who participate, this is an opportunity to socialize. They were sad when they thought it would close," Larson said.
It didn't close. Larson decided that she could handle the setup and takedown, and stayed on the job.
Over the past six years the Rickreall event has developed into one of the last "authentic" flea markets on the West Coast. Most other markets have moved solely into antiques and collectables only. Rickreall has some of that, too -- but mostly it's just regular people with stuff to sell.
Because of its classic flea market feel, the Rickreall market earned a write-up in Martha Stewart Living magazine. The domestic maven and her staff recommended it to readers as one of two top choices on the West Coast.
"It was nice to get the national exposure," Larson said. "Because of it we've had people from as far away as Seattle come down just see what we had."
It's safe to say the Rickreall Flea Market survived its near-death experience, and that much of the reason is Larson and her family.
"It gets in the blood," Larson said.
It all started when Larson was a young girl. Her mother, Dorothy, was a single mom in the 1960s who managed to buy her own home.
"She worked for the state and would spend her lunch breaks and days off picking through thrift stores for things to sell at flea markets. She would then use that money for repairs and things on the house," Larson said.
Her mom would take her along on those scavenging excursions, and then to the flea markets. Larson said that she was always most interested in use books and still has thousands of titles stored away at her mother's house.
"She likes to joke that her house will collapse from the weight of all those books, but I can't help it -- I love books," Larson said.
Larson's daughter, Shawna, also has the flea market bug. The 31-year-old nurse put herself through school with the profits she made from manning flea market tables.
"She managed to graduate without debt, and now she makes the popcorn we give away to all the participants. She's also there to help me out," Larson said.
The Rickreall Flea Market convenes the first Sunday of every month at the fairgrounds. It costs $1 to get in the gates, which open at 9 a.m.
There is an early morning walk-through between 6 a.m. and 9 a.m. for folks looking for the first deals of the day, and admission for those early birds is $5.
Vendors interested in a coveted table at the popular venue can call Larson at 503-428-8224 to check availability.