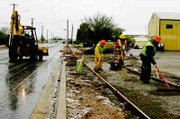 INDEPENDENCE -- The Highway 51 project at the north end of Independence will not be completed until next spring, city officials said.
Work started last May, and crews have finished storm water and sewer improvements, as well as sidewalks up to Hanna Road.
The project was originally scheduled to wrap up in mid-October. But now winter weather will make it almost impossible to finish a two- to four-inch asphalt overlay of the highway's surface, said Mike Danko, community development director for Independence.
Workers from Tangent-based Morse Bros, Inc., the contractors handling the project, were on site on Monday as snow blanketed much of the Mid-Willamette Valley.
Activity will probably halt in a couple of weeks and resume in the spring, he said.
"It will take until next year," Danko said. "We can't do the asphalt lift in this kind of weather ... we don't want them to start until we have the proper conditions."
The finished beautification project will include improved stormwater drainage, sidewalks, bike lanes, landscaping and industrial lighting along a 4,800 stretch of Highway 51 that marks the northern entrance into Independence.
A middle lane will be also be added between Polk and Hanna streets, and a left turn lane is going in at the intersection of Stryker Road.
"I was confident that it would be done by now," said City Manager Greg Ellis. "Until the stinking rain started.
"We're disappointed, because now people are going to have to drive over the rough ground on the highway for the next several months."
There have been some expense overruns. The project has required more asphalt and crushed stone for the road's base than anticipated, Danko said.
The current total is $3.3 million, about $400,000 more than the Morse Bros. bid price. Still, that's well below the $4.1 million projection in the city's original engineering estimate, Danko said.
The city is funding the construction through its urban renewal district and various system development charges (SDCs).
Detours in the work area have been a source of frustration for drivers coming into Independence -- especially for regular commuters -- and for some business owners. Traffic controls were scaled back earlier this month.
Danko said the city has tried to mitigate the negative effect for some businesses by paying for driveway, drainage and landscaping improvements.