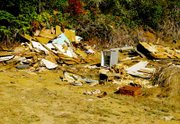 POLK COUNTY -- The federal government recently awarded Polk County $24,000 to support a program designed to reduce illegal dumping.
Established three years ago, the Dump Stoppers initiative has helped law enforcement authorities catch individuals who leave trash ranging from TV sets to abandoned autos in forest lands or rural parts of Polk County.
Because it utilizes work crews through Community Corrections to remove the litter instead of county personnel, it has also become a cost effective way to keep local lands clean, said Austin McGuigan, director of Polk's planning division.
"The county has usually cleaned up these places in the past," McGuigan said. "Now it's being done through Dump Stoppers."
The program is coordinated by several county departments. The Polk County Sheriff's Office monitors about 220,000 acres of private and public forest land, while code enforcement tracks trash sites along highways and county roads.
In the event of an arrest, the District Attorney's Office pushes for community service during criminal sentencing and the convicted are fined and assigned to crews that clean up sites throughout the region.
"Dumping used to be treated as a violation, you would get a citation and that was it," said Jerry Jackson, a Community Corrections coordinator. "Now, everything is being treated as a criminal matter and the word is getting around."
The initiative received $6,000 from the BLM when it began in 2004 and that funding level increased as it has become more successful.
Money this year will go toward educating the public on Dump Stoppers, supervision of the crews, and for purchasing surveillance equipment to catch people in the act.
The county had identified 72 dumpsites in 2004. From October 2005 to the present, officials found 49 sites, said Jerry Jackson, corrections service coordinator.
"We have less dumping now, which was our goal all along," Jackson said.
There were 10 arrests for illegal dumping during that period and more than 18,000 pounds of litter and debris removed, he also said.
Garbage left on BLM or private land is typically cleaned up at the discretion of the government or the timber company, said Jeff Williams, a forest patrol deputy.
Many of those messes might have remained if the parties deemed it too expensive to remove, but were instead cleaned up through Dump Stoppers, he said, adding that it makes his job easier.
"When people see the lands in an area are cleaner, it lets them know it's not OK to dump their trash," he said. "When people see trash already out there, it's an invitation for them to dump there own."
The program has become increasingly important, as new littering or vandalism problems arise, Williams said.
One of the latest involves individuals dragging appliances, siding and other items into woods, burning them and collecting the remaining wire and scrap metal to sell.
"This is what gets left," Williams said, standing over a gutted trailer on forest land owned by the Miami Corporation just east of Grand Ronde. "This is the type of stuff Dump Stoppers cleans up."
Citizen involvement plays a major role in the program, Jackson said. The county is often alerted to new dumpsites and suspects through anonymous calls.
"The public has to realize they were the ones who have made this successful, it's their calls that are saving their environment," he said.
"I know...BLM and some timber companies were going to gate a lot of land the public uses because of the amount of dumping being done," he said. "Those didn't go up because of the program."
For more information on Dump Stoppers or to report illegal dumping: 503-623-9261.