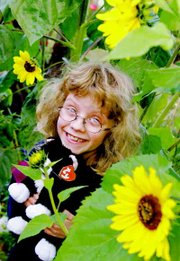 DALLAS -- Sabrina Harustak's parents, Rick and Tami, are still surprised and overwhelmed by the community support they have received in recent months.
The family sits in their modest living room, watching Sabrina's favorite show, America's Funniest Home Videos, while their kitten Monty pounces on Rick's feet.
The mood is light as they discuss the church fund raisers, the spaghetti feeds at Bridgeport School (where Sabrina attended) and donations from Rick's employer, Kliever's Flooring. They want to thank everyone, but can't find strong enough words.
All of the outpouring and love has been unbelievable, but it's not enough to stop what has made Sabrina so sick: extremely aggressive grade four, glioblastoma -- a rare tumor that has wrapped it's self around the girl's spinal cord.
Last month, the doctors at OHSU told Rick and Tami that they had done everything they could. That the fight was over. That is was time to take Sabrina home.
"It's amazing. Even with chemo every day for seven weeks, all those treatments, and it didn't even slow down," Tami said.
"They can keep her out of pain as much as possible. Hospice will start next month."
While the Harustaks were staying in Portland, teachers from Sabrina's school and her aunt planted a bed of sunflowers and posies for the family.
"It was such a beautiful thing to come home to, and Sabrina just loves the sunflowers," Tami said.
When the little girl steps outside to show off her garden Tami allows some of her grief to show, but not much. She wants to stay strong for her daughter.
"There will be plenty of time to cry when she's gone," she said.
"I don't want her to be scared. We've been talking a lot about what heaven is like, much more than we ever did before. I actually think she's more prepared for it than we are ... sometimes I wish for the innocence of childhood."
There are more difficult months ahead, but for the rest of October, at least, Sabrina will experience some of her biggest dreams. The Make A Wish Foundation is sending her, her best friend and her family to San Diego's Sea World and Wild Animal Park.
They fly down on Saturday, and Sabrina is literally counting the days.
"I want to see the Pet Show," she said.
"I've heard it's really good. They have trained cats and dogs and I'll get to pet the giraffes and lions. They have long blue tongues that are sticky, you know," Sabrina said.
When she returns, her kitten, Monty, will be waiting to play hide and seek and keep her and her parents company through the coming days.
--
Spaghetti feed will
aid Sabrina, family
DALLAS -- A community fund-raising spaghetti feed to benefit Sabrina Harustak will be served from 5 to 7 p.m. Saturday, Oct. 21 at Grace Community Church, 598 E. Ellendale Ave.
The dinner includes spaghetti, salad, French bread, peaches and coffee or fruit drink for $5.50 (adults) or $3.50 (children under 10).
Other activities include a raffle for watercolor paintings, a quilt, baked goods and fall decor crafts; a cupcake walk and face painting for kids.
All proceeds will help Sabrina's family deal with her medical expenses. For more information: 503-623-2941.