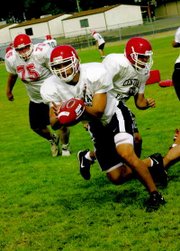 INDEPENDENCE -- There are an abundance of new faces this fall for the Central football team.
But the goals and the desire the team has shown in the past under coach Shane Hedrick remain unchanged.
"I'm very optimistic about our outlook," Hedrick said. "We're going to have five preseason games before we get to league. We have every reason to believe we should be ready by the time we get there. The league is going to be much-improved with the addition of Sweet Home and Toledo stepping down. There won't be the weaker teams we've seen in the past. And we only have four league games, so every one of those games is absolutely critical."
The most critical question facing the Panthers entering 2006 is who will replace the graduated Joe Pratt at quarterback? Pratt started every game at quarterback during the past two seasons. He single-handedly gave the team a varied attach with his combination of pinpoint passing and power running.
Entering camp, senior Justin Cuellar, junior Peter Anderson and sophomore Grant Hedrick appeared to be the top candidates to replace Pratt.
Hedrick, the coach's son, dropped out of the running when he tore a ligament in his right (throwing) elbow.
Anderson is coming off an elbow injury he suffered last season. Cuellar started last year at tight end. The 6-foot-6 senior likely will play in college at tight end or linebacker but could play quarterback out of necessity for CHS.
"Grant might play later this season, but he probably won't throw at all this year," the elder Hedrick said. "We were hoping to leave Justin in a position that might be more conducive to his collegiate career. But this might be a blessing in disguise. Who knows? He might end up being a college quarterback. Peter is a great student of the game and one of the hardest-working kids ever. But he's had very limited snaps.
"We really don't know who will take our first snap (at quarterback). Justin just started working at quarterback the other day. Up until then, it was mostly between Grant and Peter."
The Panthers have plenty of time to sort things out at quarterback, and Hedrick said it's likely the team will use it.
"We'll see how things are shaping up, which one's rising to the top," he said. "There's a good chance we could platoon them. I'm not a big fan of that. For the last two years, we didn't even have to think about it. We may have to look at it now. When we want to throw more, we'd go with Justin. When we want to run more, we can go with Peter. some systems like that have been successful."
Returnee Robbie Music figures to get the bulk of the carries in the ground game. He will be supported by J.J. Oliveros, Ricky Cedillo and Casey Connor.
"All four of those guys are showing us things we really like at the running back position," Hedrick said.
Tyler Bice tops a list of newcomers to the receiving corps. Other receiving and defensive back candidates include Travis Heide, Jamie Dale, Eric Phillips and Michael Hamilton.
The strength of the Panthers, at least initially, could be in the trenches. Seniors Cory Hayden and Alex Gragg return as two-way starters in the line.
"Our offensive line, right now, is as good as any we've had since I've been here," Hedrick said.
There also are high hopes for 6-foot-5 tight end/defensive end Ross Bansen, who reminds Hedrick of former CHS standout Jeff Charleston.
"Ross really should turn some heads," the coach said. "He's the real deal. He's scary when he puts his pads on. He brings as big of a hit as anybody we've had in a long time. You can bring Ross from one side and Justin from the other ... if you're a short quarterback or throw sidearm, you're in trouble."
Central went undefeated in Val-Co Conference play last season and advanced to the quarterfinals before losing at Scappoose.
The Panthers this season open Friday, Sept. 8 against Tillamook at Western Oregon's MacArthur Field. Central then will play four games in a row on the road before opening league play Oct. 12 at home against Newport.
Central, in a real rarity, will have only three home games this season. The Panthers gave up one home game to play the Sept. 29 game against Astoria at Autzen Stadium in Eugene.
"The number one key for us is we're really going to have to rely on our defense," Hedrick said. "Last year, the defense was the catalyst for our success. It's going to have to be again this year. Our defense will allow us to mature on the offensive side of the ball. As we mature, it will allow the offense to have more input on the outcome of the game.
"The thing we're going to have to do offensively is establish a running game. In the past, we could just spread you out, and Joe could do it on his own. We're going to have to do it now with solid line play and solid play by our running backs."
Hedrick's teams always seem to improve steadily as the season progresses. If nothing else, expect that trend to continue in 2006.
"I've always said that success is if our kids can reach their potential," Hedrick said. "If we can do that, we'll have a very, very good football team. The other thing is the chemistry of the football team. If it grows like it did last week, this will be one of the most exciting, most fun teams I've had a chance to coach."