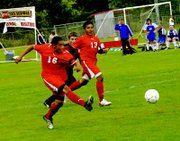 INDEPENDENCE -- Central's boys soccer team kicked off its 2006 campaign last week with a tight 1-0 win at Marist Sept. 12 and a 7-0 blowout of visiting Newport on Sept. 14.
The lone goal in the Marist game came at the 30-minute mark of the first half. CHS fullback Chris Earl had a throw-in into the Marist penalty area. Jesus Rizo touched the ball over to Carlos Esquivel, and Esquivel drilled a shot into the lower-left corner of the net.
"It was our first match, and it was on the road," Central coach Joe Penna said. "It was the first test of our match fitness and chemistry. We were actually out-shot by the Spartans, but we had the one shot that counted."
Marist finished with 18 shots, compared to nine for Central, but the defense and goalkeeper Sergio Becerra were able to keep the Spartans off the scoreboard.
"Marist historically has been a tough opponent," Penna said. "They've been state champions a couple of years. I was impressed with our team play. I was hard-pressed to identify a player to award the match ball. When I started to point out the players who had contributed, I ended up identifying just about every player. It was a true team performance."
Central was simply dominant against Newport. The Panthers scored six times during a span of about 16 minutes during the fast half.
Freshmen Salvador Najar and Jonathan Myrie scored two goals each against the Cubs. Sophomores Esquivel, Erwin Soto and Abraham Martinez had one goal apiece. Soto added three assists.
Pedro Garcia also played well for the Panthers.
"Newport is a relatively new program so they're still in the building process," Penna said. "What was impressive about the scoring is that all seven goals and six assists were scored by freshmen and sophomores.
"I have been impressed with our team chemistry and match fitness early. We still have a long ways to go to get where we need to be. But we're jelling well early, and that's always a good sign."