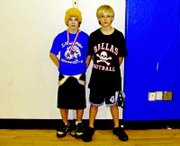 DALLAS -- Four LaCreole wrestlers recently earned berths at state in the Middle School Regional Qualifier at Woodburn High School.
About 400 wrestlers from Class 6A-1A participated in the event with the top six finishers in each weight class advancing to state.
LaCreole eighth-grader Brandon Uri finished third. Seventh-grader Tyler Payne finished fifth. Sixth-graders Wyatt Passantino and Brady Andersen finished third and fourth, respectively.
LaCreole's Jack Dunagan, a first-year wrestler, won two matches but did not qualify for state.
Eleven Dallas wrestlers also participated in the recent USA Kids Collegiate Championships at Westview High School.
In the younger division, Dallas' Tanner and Treve Earhart were second. Nolan Miller and Matt Hofenbredl took third, and Jeremy Labrado placed fourth.
Zachary Labrado and Bryce Jordan also wrestled for Dallas.
Andersen and Passantino were fourth in the junior high division.
Dunagan and Payne wrestled in the schoolboy division.