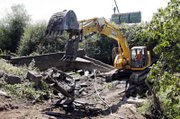 INDEPENDENCE -- Construction crews recently removed the remains of the old, Mountain Fir Timber Company dam on Ash Creek near the F Street Bridge.
The effort is part of a multi-agency project organized by Luckiamute Watershed Council to restore the creek and open 7 miles of its south fork to migrating fish.
The old dam was broken and nonfunctional, and was a trap for litter as well as an impediment to fish.
In place of of the dam, the LWC will place 50 or so boulders in the stream to create pockets of calm water that will serve as winter refuge for rearing steelhead and Chinook salmon.
Adjacent to the bridge is a refurbished neighborhood park with newly planted tree seedlings and picnic tables.