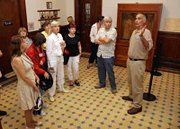 POLK COUNTY -- The Marion/Polk League of Women Voters hosted a group of five delegates from Ukraine last week as part of the Open World project.
The Ukrainian representatives were in Polk County to learn about how the local legal and police systems work.
Specifically, the five women were concerned with increasing the number of female officials in their home country, which still has few female legislators, lawyers, judges and advocates.
The women, Oksana Hrytsenko, Nataliya Martynenko, Olha Parasotska, Svitlana Yasynska and Galina Kaluzhna are all leaders in their respective fields and wanted to learn how other countries have successfully encouraged more involvement by women.
Hrytsenko in particular found the Polk County stop interesting on a week-long tour of local governments and nonprofits. She is a lawyer who works at the Secretariat of the President of Ukraine. She reviews draft legislation and facilitates cooperation between the president and the Supreme Council (parliament).
Ukraine is still an emerging democracy, and delegations like the one that visited Oregon hope to bring ideas back to improve the process.
Hrytsenko said the judicial system in Ukraine hasn't implemented trial by jury yet, but it is something that lawmakers are interested in.
Each woman in the delegation came to the United States with a specific set of concerns. While Hrytsenko was concerned with law and the legal system, Martynenko, a physician and human resources expert, was concerned with entrepreneurship - especially economic development in rural and urban areas.
Olha Parasotska, director of "Good Neighbor Relations," works to promote economic and social exchanges between Ukraine and the neighboring state of Belarus.
She came to the United States to "gain insights into how federal, state, and local governments interplay, and the relations between government and civil society organizations and how they promote economic development.
Yasynska is an expert in gender issues and was interested in the number of female governmental officials in the United States and in finding ways in which her country can promote the role of women in government.
Finally, Kaluzhna, an assistant professor and technology instructor, was along to broaden her understanding of culture in this country. She will share her experiences with students at Ivan Franko National University, where she teaches in the foreign language department and is working on an academic exchange with the University of Oregon.
The five women were in Oregon from July 27 to Aug. 4. They spent two days in Washington, D.C. as part of an orientation and then flew to Portland.
During their visit they stayed with host families and split their time between meetings and sightseeing.
They stopped at the Polk County Courthouse on their way to see the Oregon Coast.
The Open World program started in 1999 under the auspices of the Library of Congress and is now an independent program within the Legislative branch. It was created to aid burgeoning leaders within Russia and other Eurasian countries.
For more information about the Open World program, see www.openworld.gov.