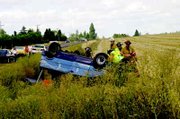 POLK COUNTY -- A Salem man was killed and a woman seriously injured in a two-car crash at the intersection of Clow Corner Road and Highway 99W on Aug. 16.
The incident was reported about 3 p.m., Oregon State Police officials said. Raul Figueroa Ramirez, 45, was one of three passengers in a Ford Aerostar Van traveling north on Hwy 99W. His wife, Felisa Quevedo Figueroa, 45, was driving.
A Ford Crown Victoria, driven by Ruth Stafford, 86, of Dallas was eastbound on Clow Corner and was pulling across the highway when it was struck in the right rear bumper by the van.
The Aerostar spun 180 degrees, rolled at least once onto the eastbound shoulder, and came to rest in a grass field east of 99W.
Ramirez, who was in the front seat on the passenger side, died at the scene.
Figueroa and her sister Mantina Quevedo Franco, 36, were transported to Salem Hospital with non-life threatening injuries. Another sister, Maria Guzman Quevedo, 43, had serious injuries and was taken by air ambulance to Legacy Emanuel Hospital.
Stafford was not injured. No citations were issued at the scene and OSP is still investigating.
Figueroa-Ramirez's death marks the third fatal automobile crash at the 99W/Clow Corner intersection in the past decade, according to the Oregon Department of Transportation.
There have been 43 crashes at the site, with 40 people injured, during that period, ODOT said. Thirty-one of those incidents happened during the daytime.
The intersection is listed among the 10 percent of road and highway segments with the highest crash histories on ODOT's Safety Priority Index System (SPIS).
The system is based on three years of crash data and considers accident frequency, rate and severity. A roadway segment becomes an SPIS site if it has three or more crashes, or one or more fatal crashes, in a three-year period.
The method identifies locations where state funds allotted for traffic safety would provide the highest benefit. ODOT Region Traffic Managers evaluate sites annually and approves projects if a correctable problem can be determined.
The process spurred an ODOT safety project at the intersection of Perrydale Road and Highway 22, which is currently in the design phase. The 99W/Clow Corner intersection isn't currently scheduled for an improvement.
"I would emphasize that we cannot engineer a solution to all traffic problems," said Adam Torgerson, ODOT spokesman. "No matter how well a road is designed, there will be driver error. That's one of the things the managers review.
"When managers looked at the accidents at this intersection previously, they found that people were running the stop sign from the west so we installed rumble strips on the west leg of the intersection," he said. "We have not found (the west side) to be a cause of an accident since, but we do not have complete information on this most recent accident yet."
Safety improvements may be initiated on stretches of road if the site sits on the SPIS's top 10 percent list for three years, according to ODOT. Recommendations to ODOT from Area Commission on Transportation regional advisory bodies can also be made if there are enough citizen complaints.
To contact the Marion, Polk and Yamhill ACT or for more information: 503-986-2900 or go to www.oregon.gov/odot/comm/ and follow the Area Commissions link.