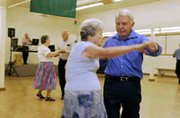 RICKREALL -- It's a Thursday evening and the Rounds Are Us Dance Club is holding its weekly summer social dance.
The Arts and Crafts Barn at the Polk County Fairgrounds pops with the rhythms of cha-chas, rumbas, waltzes, and foxtrots.
"This is choreographed ballroom dancing, originally called round dancing," Suzette Juhring says as she watches her students make their counterclockwise circulation.
Juhring and her husband, John, have been dancing together for 30 years.
The Rounds Are Us began 21 years ago. And the Juhrings have been teaching dance together for almost that long.
Choreographed ballroom dancing differs from regular ballroom dancing in that there is a cuer who stands at the front of the room, changing the songs and calling out the choreography for them.
Every song played has a series of "figures," each comprised of several steps. The figures all have names.
Some are odd-sounding, like "Curly Whip," "Cheerleader," "Big Top," "Flea Hops" and "Throwaway Oversway."
Other figures are more basic, like "Chug," "Circle Away," "Circle Away and Together" and "Close."
The cuer, who acts just like a caller would in square dancing, calls out a series, which the dancers have memorized through hours of practice.
Unlike in square dancing, each figure is carefully planned out and listed for the cuer to read.
"The men love it because they don't have to think about leading and about what they are going to do next. They can just listen for the cue, then do what it says. They can just concentrate on having fun," Juhring says as her husband cues the dancers through a waltz.
Choreographed ballroom started around the 1940s and grew out of the square dancing tradition. According to Juhring, people originally had all of the choreography memorized because there were only a few songs to dance to.
"But, as it became more popular, people got tired of dancing to the same old songs and the demand grew for more and more choreography. Eventually, there were too many for people to remember, so they starting having cuers," Juhring said.
These days most of the participants in choreographed ballroom dancing are retired couples looking for something active to do.
"Doctors have actually prescribed ballroom dancing for people because of its benefits. It's just a good, social, healthy activity," Juhring said.
The AARP backs her up. According to a recent article it published, moderate, low-impact exercise like dancing, brisk walks, cycling or aerobics can strengthen bones and muscles, improve posture and balance, increase stamina, reduce stress and ward off illnesses like diabetes, high blood pressure, heart disease, osteoporosis and depression.
"It's amazing to see these people ... some of them move so slow, but when the music starts they just float," said Ladonna Love, a social dancer from Lincoln City. "It's beautiful to see. "You can tell it's just so good for the soul."
Her husband, Richard, says, "The great thing about this is that it's something that couples can accomplish together, as a team"
But because a basic knowledge of specific figures is necessary to know what you're doing on the dance floor, classes are needed.
The Juhrings teach a beginner class every fall. This year's session starts Sept. 19 and will be at Capital Manor in West Salem.The beginning class stretches out about six weeks and teaches students all the figures they need for the first level.
For more information: Suzette and John Juhring, 503-931-0407 or dancearound97338@yahoo.com.