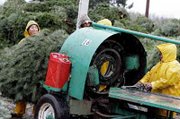 POLK COUNTY - The first few weeks of December are always the most frustrating part of the Christmas tree season for Bob Schaefer, general manager of Noble Mountain Tree Farm.
His company, which operates on nearly 3,300 combined acres in the Eola Hills and Airlie areas, as well as in Silverton, has shipped most of the 500,000 trees harvested this year. It now operates with a skeleton crew to bundle and load the remaining inventory.
"During the big push, we do 40 to 50 trucks a day; now it's like two to four," said Schaefer, who adds with a chuckle, "so we sit twiddling our thumbs because it winds down slowly."
It's a problem he can live with. Industry representatives in the county and across the state are projecting this to be one of the most successful seasons in years for growers, despite a reduction in wholesale prices.
"The harvested number of trees this year will total between 7.5 million and 8 million," said Bryan Ostlund, executive director of the Pacific Northwest Christmas Tree Association. "We're on pace to meet records or surpass them. It's been a picture-perfect harvest."
More Christmas trees are grown in Oregon than anywhere else in the United States, with production totaling $108 million in 2005, according to the USDA National Agriculture Statistics Service.
Most trees end up in California or Arizona.
Polk County ranks fourth among the top producing counties in the state, with nearly 8,000 acres dedicated to growing Noble, Douglas and Grand fir. Two of the biggest growers in the state, Noble Mountain and Holiday Tree Farms, Inc. are located in Polk.
Ken Brown, a retired Oregon State University Extension Agent who operates a small U-cut operation in Dallas, said growing conditions this year have been "exceptional."
"We had good rainfall in the spring," he said. "And again in the fall ... and that was so good for us, because when you have a dry fall, the trees don't hydrate as they did this year."
Cool temperatures - which preserves trees by holding needles down - were also a plus, Brown said.
An expected industry slowdown because of a projected inventory surplus from overplanting in the early 2000s wasn't as serious a problem as had been previously predicted, though there was some softening of wholesale prices this year, Ostland said.
The average price for a high-grade, 6- to 7-foot Noble was between $18 and $21, about $2 to $3 lower than the previous year, he said.
A few factors offset that reduction, Ostland said. Labor and truck shortages that affected the industry last year weren't as severe this time.
Schaefer said his company has been more selective in its growing sites as part of a pest management system to reduce spraying costs.
"We've also tried working with genetically superior seed stock, to shorten the rotation for some species" of tree, he said.
Christmas tree associations also pooled resources for marketing real trees as preferable and safer than artificial trees. Part of this stems from the controversy regarding lead in products manufactured in China, where most fake trees come from.
"As an association, we put our focus on four major cities," Schaefer said. "And it seems to have gotten a lot of good press.
"Some retailers are indicating seeing early sales increases," he also said.
But there were issues. Growers have had to pass along a freight cost to buyers because of high fuel costs, while helicopter availability was also a problem.
"I think more mid-size growers are starting to realize the advantage of helicopters for moving trees from the field to a gravel loading area," he said. "Lifting them out of the field into a clean gravel yard is an easier way to process them."