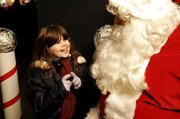 Hey, Santa:
The Dallas Christmas tree is still ablaze from your magical visit to our downtown on Friday night.
It wasn't quite as cold this year as last, as you found out, but hats, scarves and thick winter coats were still the fashion of the evening.
The line of kids to visit with you wrapped around the block, but some broke ranks to burn off those cookies in games of tag.
The choir sang favorite carols, and families huddled for warmth. Many people in the crowd had never visited you in Dallas before, and were surprised when you arrived on a Harley.
They didn't know you'd borrow Darcey Michaelson's bright yellow ride for your trip to downtown. The roar came as a surprise to the kids who tried to sing "O Come All Ye Faithful" over the hubbub your entrance creates.
The crowds did faithfully come to see you, Santa, like they do every year. And every year they seem to grow in numbers - mothers, daughters, fathers, sons - all eager to bend an old man's ear.
Some of the kids were a bit skittish. You are an icon, Mr. Claus, and the enormity of your presence can be overwhelming. I know you don't take it personally when a child can't speak or even cries when their turn with you comes.
That's why you send out your elves every year to gather reports on the greatest Christmas wishes.
There are a few included in this letter. The rest are on there way via DHL (Deer Hauling Line) and should reach you well before Christmas Eve.
Lauren Lancour, 3, wants: "A thing that goes like this (she gestured right to left with her hands) then goes like that (then gestured up and down with her hands)." I'm sure you know what she means, because her mother was a bit baffled.
Auburn Logan, 10, would like a pink MP3 player, emphasis on the pink. That is very important.
Sydney Dizick, 7, wants an i-dog. I believe that's a stuffed animal with a cyber-space persona.
There were a lot of digital themed wishes this year, Santa. That correspondence course in computer programming for the elves should finally pay off.
Not all kids are addicted to pixels, Santa. Dalton Woolner, 7, went with an old-school request and wishes for Legos on Christmas Day. He prefers the Star Wars III theme to his Legos. His sister Tori, 4, wants a Barbie or Polly Pockets. The elves can crank that out in their sleep.
Isaac Linford, 5, went even more retro with his request. Isaac wants puzzles. His sister, Sara, 8, wants Cabbage Patch doll clothes. Little brother, Jacob, 2, wants a big truck, at least I think that's what he said.
And finally Santa, the most traditional request. Ainsley Cornman, 3, would like a pony. A red pony as bright as her hair.
There were more, Santa. Expect the full report in your mailbox soon.
Love,
Your Faithful Elf