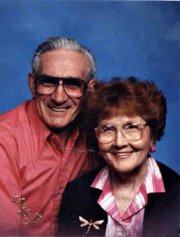 Tomasheski - 60th
Tom and June Tomasheski of Dallas will celebrate their 60th wedding anniversary on Dec. 25.
Edward J. "Tom" Tomasheski and June L. Guard were married Dec. 25, 1947, in Vancouver, Wash.
During World War II, Tom was in the Army and June worked in the shipyards as a welder. In 1948 they worked in the fire towers at Nicolai Mountain and fire station in Jewel.
They moved to Dallas in 1950. Tom worked at Gerlinger Carrier Co. for 31 years, retiring in 1981; June, for J.C. Penney Co. and Lipman's in Salem. She also was a representative for more than 40 years with the Avon Co., retiring in 2005.
The Tomasheskis have resided in Dallas for 57 years.
Tom enjoys golf and June stays busy with their home and her miniature dachshunds.
More like this story