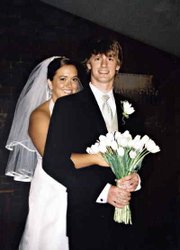 Ainsworth-Yliniemi
Jena Ainsworth of Monmouth and Ben Yliniemi of Monmouth were married Aug. 11 at First Baptist Church in Independence, and a reception followed at Central High School.
The bride is the daughter of Mike and DeAnn Ainsworth of Monmouth. The groom is the son of Carey and Elizabeth Yliniemi of Monmouth.
Jena is a 2007 graduate of Oregon State University. Ben is a student at OSU. Both work at Lowe's Distribution Center in Lebanon.
The newlyweds honeymooned in Las Vegas and live in Independence.