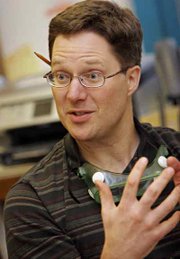 INDEPENDENCE - A pungent smell permeates Greg Craven's classroom at Central High School following his final period - the result of a chemistry experiment involving fire and peanuts.
It's a sign that life is more or less back to normal for Craven, who garnered widespread media attention earlier this month because of a series of self-produced videos on global warming that became a hit on YouTube.
Things climaxed on Dec. 17, when Craven was bombarded with calls from reporters while driving to school and "trying to think up a lesson plan," the 38-year-old science teacher said.
His students walked into class that morning to find news crews from ABC network and KOIN television in Portland setting up equipment for interviews, he said.
"After that, it just went dead," Craven said late last week. "So is that the end of my run in the mainstream media?"
For the sake of his warning on global warming, he hopes not.
"I think everybody needs to be inspired to look at the evidence and evaluate things for themselves.
"Once we get to `Oprah,' then the world can be saved," he said with a laugh.
Six months ago, Craven produced and posted on YouTube "The Most Terrifying Video You Will Ever See," an appeal to act on climate change before it's too late and a means of teaching critical thinking in his classes.
That footage has received about 4.5 million hits to date and is near the top of the all-time list of views on the popular, video-sharing Web site.
He followed that first video with supplemental clips to plug holes in his theories. During a six-week period in August and September, he produced a 44-part sequel - totaling more than six hours - called "How it All Ends."
The first installment aired in October and has received about 500,000 hits on break.com.
"It was my magnum opus, my mid-life crisis, my gift to the world and my nervous breakdown all rolled into one," Craven said.
"When you look at what we think we know about global warming, about all the evidence," he added, attempting to summarize his message, "it's clear the risk of not acting is greater than the risk acting."
Craven's students linked his first video through their Myspace pages. Within 72 hours, it had received about 10,000 hits.
Craven said the media attention began in early December, after the clip had been viewed almost 4 million times, with a complimentary article by a blogger at the Huffington Post, an online news site.
He was then contacted by a Montreal radio station for an interview. Then by reporters for the Toronto Star and Christian Science Monitor newspapers.
On Dec. 16, Craven was featured on the front page of The Oregonian. The Associated Press has carried the story, and ABC World News recently produced a segment, Craven said.
Craven said how the video spread so quickly is analogous to what's happening with global warming.
"Climate change is nonlinear," he said, "where small tweaks can end up having huge effects."
Craven said he's happy the videos have received attention, but making them came at a price. He spent nearly 16 hours a day - everyday - during a six-week stretch in August and September, cranking out a 70,000-word script and then filming for his sequel.
His wife would take their two daughters out of town to give him space.
"She made sacrifices for me," he said. "She carried a huge burden while I pursued this."
Chest pains - likely brought on by exhaustion and stress - led to an emergency room visit. And for a month, the quality of his instruction in his chemistry and physics classes suffered, he also admitted.
Craven said he wouldn't get involved in such an undertaking again. Regarding his grim global warming message, however, "I can look at my kids and say I did what I could to stop it," he said.
Craven has recently moved from Monmouth to Corvallis and is now teaching part time after eight years at Central High to spend more time with his family.
The attention has dwindled, though he was approached by a publishing agent who thought Craven's experience and project would make a great book.
"I don't want to write a book, I just want to play with my daughters," he said. "But (the agent and I) have been talking and the money it could make would help compensate working part time.
With the mammoth script as the basis, "it's pretty much done."
To view Craven's inaugural video, go to www.youtube.com and enter "The Most Terrifying Video You Will Ever See" in the search option.