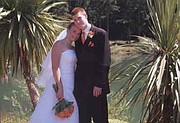 Cruckshank-Ballweber
Cathryn Cruckshank of Dallas and Scott Ballweber of Dallas were married Aug. 11, 2007, at Airlie Winery in Monmouth.
The bride is the daughter of Nancy Cruckshank of Dallas and Robert Dittmar of Auburn, Wash. The groom is the son of Terry and Joanne Ballweber of Dallas.
Maid of honor was Jessica Patten and bridesmaids were Gabriella Cruckshank, Margaret Domaschofsky and Sarah Cruckshank.
Best man was Jordan Steeply and groomsmen were Andy Johnson, Chip Holton and Manuel Padilla.
Cathryn, a 2005 graduate of Dallas High School, is a teller in new accounts at Citizen's Bank. Scott, a 2004 graduate of Dallas High School, is a cashier at Home Depot.
Both attended Chemeketa Community College.
The newlyweds honeymooned at Black Butte Ranch and make their home in Dallas.
More like this story