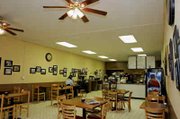 DALLAS - Jeff Mexico jokes that he bought his first theater in Stayton to "give his teenage son a job."
Now, more than five years later, Mexico and his wife Robin have turned a part-time job into a tidy chain.
"Originally, I worked at Hewlett-Packard, and Robin was a stained glass artist. We opened that first theater because downtown Stayton needed something to draw people downtown.
"It needed something that would bring the town back to life," Mexico said.
It helps that the Mexicos are hard workers adept at restoration. They turned the old Star Cinema in Stayton around quickly, hired their son and his friends to work concessions, and updated the projection equipment to state of the art digital.
"Our motto is `we look low tech but with high tech quality,'" Robin said.
After a few short years, Star Cinema was hosting 30,000 people annually. When the city of Albany heard this, its council knew who to approach about revitalizing its downtown core.
"Albany had been following what we were doing in Stayton and asked us to come down and open another theater as part of their downtown revitalization product," Robin said.
"Theaters are ideal for that sort of thing in a small town, because they bring in the foot traffic that then spills over into other businesses before and after the movie shows," Jeff added.
After discussing the prospect of owning another theater in another town, the Mexicos purchased Albany's Pix Theater in 2005.
"It was a theater when we bought it," Jeff said.
"At least it hadn't been for decades, but the sloped floor was still there under the level shop floor and the stage area. It took a lot of hard work, but we got it remodeled and open for business in a few months."
The Pix Theater is in a different situation than the Stayton theater, because Albany has a Regal Cinema near its downtown area.
However, the Pix holds its own because of the unique services and specials the Mexicos are able to offer. They are limited only by their own imagination and ingenuity.
"We can keep our ticket and food prices lower, and are able to rent out the theater space for birthday parties and special events," said Robin.
"People can have a video-game party and play their games on the big screen. That's something they can't do in the bigger chains because they have to get permission from corporate."
Between the two theaters the Mexicos were kept busy and their reputation was spreading. They had been instrumental in the revitalization of two downtowns.
Ron Birch, the owner of Dallas' only movie theater, the Fox, soon approached the Mexicos about taking over his triple business in Dallas, which also included the Motor-Vu Drive-in and the Courtyard Coffee Shop.
"He asked us to buy him out a couple years ago, but he insisted on selling all three businesses together, and we weren't interested in running a cafe and drive-in," Jeff said.
They turned Birch down - repeatedly - but Birch was persistent and the Mexicos started thinking that maybe a cafe wasn't such a bad idea.
"Both businesses needed a lot of work," Robin said. "But luckily we work fast."
Birch hadn't been living in Oregon for quite a while and his cafe, drive-in and movie theater were a bit worse for wear.
"The first thing we did was repaint the cafe and remodel the concession at the theater. Then we brought in trainers from our coffee supplier and got every employee trained on drink making so they were all on the same page and the drinks were consistent," Jeff said.
"Then we redid the menu and lowered the prices so they were on par with our other businesses," Robin added.
Now, instead of stained glass, Robin makes sandwiches and gourmet coffee at the Courtyard Cafe.
"I love it. I wasn't sure about owning a cafe, but the customers are all so friendly and it's really a lot of fun. This is a great little town," Robin said.
And for fans of one of Oregon's few remaining drive-ins, the Mexicos plan to keep it going. They'll remodel the Motor-Vu's snack bar and will reopen in March or April.
For more information: www.dallasfox.net.