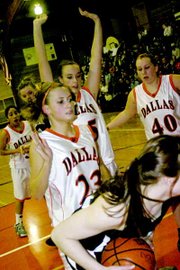 ♦
Registration is underway for Dallas Kids, Inc softball and baseball
. Registration will take place at the Kids, Inc. office during regular business hours and also from 6:30 p.m.-8 p.m. Feb. 21 and 10 a.m.-noon March 3. In baseball, players ages 5-12 (as of April 30, 2007) are eligible to play in t-ball, rookie, minor and major leagues. Players ages 13-14 (as of July 31, 2007) are eligible for Junior Baseball Oregon. In softball, players ages 5-14 (as of Jan. 1, 2007) are eligible for t-ball, 8-under, 10-under, 12-under and 14-under leagues. Fees range from $50 for t-ball to $125 for JBO. All unpaid balances must be paid in full before softball or baseball registration will be accepted. Volunteers and sponsors also are needed. For more information: 503-623-6419.
♦
Falls City High School is seeking a volunteer baseball coach
. The school might not be able to field a team this season if a coach cannot be found. For more information: athletic director Mike Mayfield at 503-787-3521.
♦
The Dallas Kids, Inc. softball program is looking for volunteer umpires to officiate under-12 and under-14 games this season
. A criminal background check is required. Games begin early in May and continue through July: For more information: Kids, Inc. at 503-623-6419 or Scott Ackerman at 503-623-5200.
♦
Central Youth Sports of Monmouth and Independence is holding registration for spring baseball on Wednesdays from 6 p.m.-8 p.m. at its office, 169 Broad St. in Monmouth
. For more information: 503-838-4013.
♦
The Salem Baseball Umpires Association is seeking individuals interested in becoming umpires for the 2007 season
. Registration will be held at 6:30 p.m. at West Salem High School on Wednesday Feb. 7. High school umpires are paid $40-plus per game, are reimbursed for travel and can set their own schedules. All training is provided. No experience is necessary. College students are eligible. For more information: 503-589-9238 or mmartino@salemumpires.org.
♦
Central's boys tennis team is holding a bottle drive Saturday, Feb. 10 to help finance its trip to Indian Wells, Calif., for the Pacific Life Open
. The bottle drive will be held from 10 a.m.-3 p.m. in Monmouth and Independence. Team members also are looking for yard work or small jobs to help pay for the trip. The Pacific Life Open is the fifth-largest professional tennis tournament in the world with a purse of $5 million. Central's itinerary calls for players to attend matches March 9-11. The Panthers also will take part in a clinic March 9 at Indian Wells and will have a match against Palm Desert High School March 12 before returning to Oregon. For more information: coach Ron Warkentin at 503-623-2998.
♦
Dallas girls basketball coach David Brautigam is conducting individual workouts for players in fourth grade through college age
. The workouts focus on ball handling and shooting and developing strength and conditioning, speed and agility. Brautigam played at Tualatin High School, Lane Community College and Western Oregon. His second annual Champs in Training Camp is set for March. For more information: Dave Brautigam at 503-539-9758.
♦
Linfield College in McMinnville is hosting a fast-pitch softball clinics for girls ages 8-18 Saturday, Feb. 10
. Linfield players and coaches will serve as instructors, stressing the skills necessary to succeed at all levels. The clinic will last from 10 a.m.-3 p.m. with an hour off for lunch. The cost is $35 per person and does not include lunch. For registration or more information: Jackson Vaughan at 503-883-2413 or jvaughan@linfield.edu.
♦
Central's Biddy Ball youth basketball program wraps up Saturday, Feb. 10 at Monmouth Elementary School
. Boys and girls in grades 1-2 are eligible. Players in first grade meet from 9 a.m.-10:30 a.m., and the second grades meets from 10:30 a.m.-noon. Coaches and players from the Central boys program will instruct. The cost is $10. For more information: CHS coach Nick McWilliams at 503-606-2540.
♦
The next meeting of the Dallas Kids, Inc. board of directors will begin at 7:30 p.m. in the Dallas Civic Center on Monday, Feb. 12
. To place items on the agenda: 503-623-6419.
♦
The Dallas Booster Club is holding a sports talk show on Dallas sports every Monday at 6 p.m. on KPIE radio station, FM 94.3
. Interviews with Dallas coaches, players and alumni will be featured. The host is Tod Brostrom.
♦
The Dallas Booster Club is looking for individuals who are interested in being involved in the following areas: spirit items and booster club apparel, public relations, memberships, auction and concessions
. All positions are volunteer and 100 percent of all profits go to athletic programs and athletes at Dallas High School. Meetings begin at 7 p.m. on the first Monday of each month at the DHS library. For more information: Kathie Brostrom at 503-623-4542.
♦
Central Youth Sports office hours are Wednesdays from 6 p.m.-8 p.m
. The CYS office is located at 169 S. Broad St. in Monmouth. The CYS phone number is 503-838-4013. The CYS website is www.centralyouthsports.com.
♦
Dallas
Kids, Inc.
is located at 187 SW Court St
. The Kids Inc. phone number is 503-623-6419.
♦
For additions to the Sports Briefs section: Sam Scott at 503-623-2373 or by e-mail at sscott@eaglenewspapers.com
.