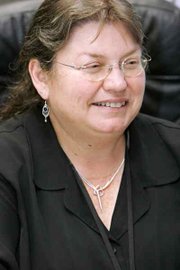 DALLAS -- Tina Smith will be sworn in as Dallas postmaster on March 8. She has been serving as the city's postmaster since the end of January.
"The ceremony on the eighth is really just a formality, all the paperwork has been signed," Smith said.
Smith grew up in the South, and her father and great uncle were rural carriers in Mississippi.
"I grew up in West Point Mississippi and I remember both of them going out every day to deliver the mail ... and in rural Mississippi that was a really great job, with great stability," Smith said.
She started her own postal career in 1984 in Irving, Texas. Later she returned to her home town and served the same community her father had served. She worked as a rural carrier and later as a clerk.
"A lot of carriers check on the elderly people on their route. That is how so many carriers save people -- for many of those folks, the only interaction they have with another person all day is with the postman," Smith said.
"If that older lady who always meets you at her screen door isn't there one day, you get to wondering about her, and you check it out. That interaction is what I'll miss most in this new position."
As postmaster she spends much of her time with problems and complaints. "I don't get to have those fun, everyday interactions," she said. "But that's OK."
Smith moved from Mississippi to the Oregon town of Brownsville in the late 1980s. From there she transferred to Sweet Home, where she worked as a clerk and city carrier.
In 1999 Smith moved to Dallas and became the office supervisor under her postmaster predecessor, Morrie Bart.
Bart retired in September after 13 years in Dallas and a total of 38 years in the Postal Service.
Smith said that of all of the places she has worked at or substituted in, the Dallas Post Office has is the friendliest and most energetic staff.
"I definitely plan to carry that tradition on. This is by far the friendliest staff I have ever worked with, and I want us to continue to provide good customer service. All our carriers take a great deal of pride in their work and I want to see that continue," Smith said.
She also said the citizens of Dallas should watch for raffles, contests and other community events. A Dallas Post Office tradition is to celebrate the release of every commemorative stamp with some kind of contest. Right now, the Hershey's Kiss love stamp is on display.