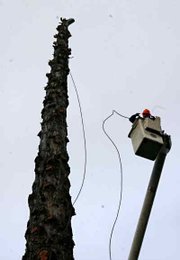 DALLAS -- Neighbors on Academy street were jostled out of their cozy homes by the felling of a giant Sequoia on Thursday.
A crew from J&J Stump removal took the 40-plus-year-old giant down in two slices. The first fell almost 60 feet and slammed into the asphalt point first, ripping a two foot crater in the street.
The reverberation had neighbors peering out from windows and doors. Some braved the 30-degree weather to watch the second half fall.
"I think it's an awesome tree," owner Mark Hoefler said.
"It's too bad it had to come down. It's beautiful, but it never should have been planted here."
Hoefler said the tree "listed over 6 degrees since I moved in, and it was only a matter of time before it came down on its own."
Dallas road crews stood nearby and watch the process, moving their trucks further away before the tree fellers brought down the monstrous second half.
Hoefler had to push for the City of Dallas to share the cost of removing the tree. The city isn't helping with the root removal or repairing the sidewalk that has been lifted more that a foot by invasive root systems.
"We don't have a tree ordinance and don't normally get involved with trees on private property," City Manager Roger Jordan said.
"But, because it had grown into the sidewalk and the street, and it was becoming a safety hazard, we are helping the property owner cover the cost of our portion of the tree that was on city property," Jordan said. "We will also be covering the cost to repair the street. The property owner will be responsible for the sidewalk."
Once the tree was down and Frank Pender, owner of Tanglewood Timber in Dallas, was prepping the logs for transport, spectators got a chance for a closer look.
Hoefler was disturbed to find significant rot in the upper portion of the tree. It had started to spread down the trunk.
"Look at that," he said, shocked. "It really was just a matter of time before it came down on top of someone's head ... I'm glad I took it down. Now I can actually landscape my yard."
The neighbors started returning to their homes once the excitement ended. Pender hauled off the logs to be milled later this year. He plans to donate the milled lumber for Outdoor School students to build bird feeders this spring. What is left after that will be given to Philomath High School's wood shop.
"This is great," Pender said. "It's always a challenge to find the right kind of wood, and a tree this size will make a lot of bird feeders."