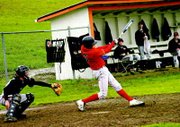 POLK COUNTY -- It is, as 2005 Central graduate Justin Reynolds is discovering, the life of a minor league baseball player.
"We're in Danville," Reynolds said in a July 2 phone interview. "I think it's in Virginia, but I'm not sure."
Reynolds isn't certain which state the current road trip has taken him to, but he knows that he recently signed a contract to play baseball for the Tampa Bay Devil Rays organization.
Reynolds, who played two seasons at Mt. Hood Community College, has been assigned to the Class A Princeton (W.Va.) Rays of the Appalachian League.
The former Panther already has had to overcome some obstacles. He twice hurt his shoulder while playing basketball in high school and later had surgery on both shoulders.
Reynolds was drafted by Atlanta coming out of high school but elected to go to college instead. He was drafted by the Rays after his freshman season but returned to Mt Hood for another season. He then signed with Tampa Bay before the 2007 amateur draft.
"It's a five-and-a-half year contract," Reynolds said. "After that, if you're not on the 40-man roster, you become a free agent. You can be traded at any time, but the odds of that are pretty slim. It's just a traditional minor league contract.
"They gave me a scholarship plan for my last two years of college and a signing bonus on top of that."
Tampa Bay has one of the worst won-loss records in the Major Leagues over the past few years. There even has been talked the franchise might be relocated.
On the other hand, the organization has shown it is more than willing to promote younger (and thus cheaper) players to the major league level.
"I think it's a good organization," Reynolds said. "They're really into player development. They put a lot of effort into making sure we succeed. As far as moving up the ladder, it's one of the better organizations in baseball. They're looking for people who can help them out."
Princeton is a town of about 12,000. Players are housed in the local Super 8 Motel but don't get to see much of it.
"On an average day, we get on the van and go to the ballpark about one-thirty," Reynolds said. "Then we get on the field and go through drills, flyballs, ground balls, fundamentals until about five-thirty. We get about an hour of a break to get something to eat, and the game starts at seven. We play until about ten-thirty, and then get up the next day and do it all over again."
Reynolds was a pitcher and position player at Central. Since then, he has concentrated on playing in the outfield. He was hitless in his first few games as a professional. But, after nine games, he's fifth on the team with a .281 batting average. The 6-foot-3, 195-pounder has nine hits in 32 at-bats, eight runs scored, five RBIs and two stolen bases.
"I hit a home run a few games ago," Reynolds said. "I think I'm on a five-game hitting streak. It takes a little luck sometimes. I was hitting the ball right at people the first few games. It's the law of averages. A few started falling in the gaps. Plus, I was getting a little more comfortable, getting used to the environment and everything."
The difference between the college and professional levels has been unmistakable.
"Everybody here is a step above," Reynolds said. "Every pitcher you see throws in the 90s. They're all like the best college pitcher you've ever seen. They're all at that level. It's the same with the players. Everyone is a good athlete."
And, by the way, Danville -- the home of the National Tobacco-Textile Museum -- is indeed in Virginia.