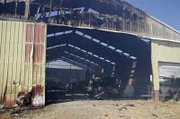 DALLAS -- A barn fire reported at about 5:40 p.m. on July 7 at 400 James Howe Road in Dallas kept firefighters busy for more than nine hours.
At 5:49, the first engine arrived from Southwest Polk County Fire Department. Responding firefighters found a 60- by-120-foot barn billowing heavy black smoke and flames from its roof.
The flames were feeding off bales of hay, and the fire was spreading. Four tenders, one support unit, one medic, one command vehicle and 33 firefighters worked to contain the fire. Polk Fire District No. 1 and the state forestry department also responded. The forestry staff worked to put out a small grass fire that began spreading away from the barn and threatened a stand of oak trees.
The property owner had stored a semi-truck stacked with hay in the barn. A tractor, baling machine and miscellaneous items also were lost in the fire.
Damages were estimated at $250,000. Inspectors believe the fire started when the stored hay spontaneously combusted.