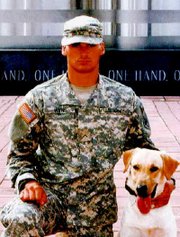 POLK COUNTY -- A procession was held on Monday for Army Cpl. Kory Duane Wiens of Independence.
Wiens, 20, was killed by an improvised explosive device (IED) during a patrol on July 6 in the town of Muhammad Sath in Iraq.
The blast also claimed the lives of Army Pfc. Bruce C. Salazar Jr., 24, of Tracy, Calif., and Wiens's search dog, Cooper.
Wiens's body was flown in from Dover Air Force Base in Deleware to Corvallis Municipal Airport.
The local procession wound through the streets of Albany and Independence, places Wiens called home during his childhood, before concluding at Dallas Mortuary Tribute Center.
A memorial service is scheduled for 10 a.m. Wednesday, July 18, at Faith Evangelical Free Church in Dallas. Intermenent with full military honors will follow at Salt Creek Cemetery.
Wiens was born on Sept. 6, 1986, in Albany and was the second-youngest of his four siblings. He was named after his grandfather, who was a canine handler during the Korean War.
He was involved in Boy Scout Pack 38 in Independence and attended West Alabany High School, where he was a member of the football and wrestling teams.
In a press release from the Oregon National Guard, Wiens's family described Kory as an easygoing person who enjoyed customizing cars and telling stories.
"He was a really good kid," said Diane Risen, who was the den mother of Wiens' scout pack. "He got along well with everybody and was a good leader."
Kory Wiens enlisted in the Army to gain experience for a career in K-9 law enforcement. He attended the 341st Training Squadron at Lackland Air Force Base in San Antonio, Texas, and was partnered with Cooper, a 3-year-old yellow Labrador retriever.
Wiens and Cooper were later assigned to the 94th Mine Dog Detachment, 5th Engineer Battalion, 1st Engineer Brigade at Fort Leonard Wood, Mo.
The duo was deployed to Iraq in January and assigned to detect TNT, detonation cords, mortars and other materials that are used to make roadside bombs.
In an article posted on the U.S. Army web site earlier this year, Wiens said his dog didn't know simple obedience commands when they were first paired.
"I got to teach him all the things he knows," Wiens said. "Seeing him out there working is very rewarding."
Kory Wiens' older brother, Kevin Jr., is serving a second tour in Iraq as an Army military police officer.
Wiens is survived by his father, Kevin; mother, Judith (also known as Laura); brothers, Kevin and Kyle; sister, Lindsay; and grandmother, Patricia McAlister.
Contributions in his memory can be made to the Kory Wiens Memorial Fund at any Washington Federal Savings branch.