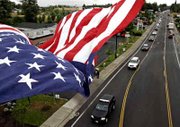 DALLAS -- During the July 18 memorial service for Army Cpl. Kory Duane Wiens and his search dog, Cooper, Pastor Ron Sutter said he was touched by the diversity of the audience.
It was an eclectic mix of bikers and Cub Scouts, state leaders and small-town mayors. Before the ceremony, almost 30 K-9 units - dogs and their handlers - stood at attention in the parking lot.
"Some are here because Kory was a childhood friend," Sutter said. "Or a neighbor ... or because they're in the military."
All came to honor Wiens, 20, and Cooper, 3, who were killed on July 6 by a roadside bomb explosion in the town of Muhammad Sath in Iraq.
The two were part of the 94th Mine Dog Detachment, 5th Engineer Battalion, 1st Engineer Brigade out of Fort Leonard Wood, Mo.
They perished while undertaking their normal routine: rooting out TNT, detonation cords, smokeless powder, mortars and other weapons.
"How many lives they saved together, we'll never know," said Gov. Ted Kulongoski, who spoke before a crowd of about 300 at Faith Free Evangelical Church. "But thanks to their bravery, many other soldiers will be able to come home safe."
Addressing Wiens' grieving family members, Kulongoski added. "Kory was the best Oregon has to give and a soldier who found strength and courage in your love."
Wiens attended Talmadge Middle School in Independence and was a member of Boy Scout Pack 38. He later starred on the wrestling and football teams at West Albany High School.
He enlisted in the Army in 2005, planning to gain experience for a career in K-9 law enforcement.
Capt. Danielle Roche, Wiens' company commander, called him "the kind of soldier every commander dreams of having."
Wiens often arose early to clean kennels and barracks, and voluntarily joined troops new to the unit in their 5-mile initiation run, just to help them keep pace, Roche said.
The audience laughed as Roche shared a few humorous anecdotes, like Weins' attempts to add bulk to his "scrawny" frame, by wolfing down gummy worms and ramen noodles before heading off to the gym for one of his frequent workouts.
"He was always eating," she said. But he also "had a hunger for his job ... he always pushed himself ... he wanted to be the best."
Kulongoski and Colonel Gregg F. Martin, commander of the U.S. Army Corps of Engineers, Northwestern Division, awarded Wiens a Bronze Star, Purple Heart, Army Good Conduct Medal, Iraq Campaign Medal and the Global War on Terrorism Medal posthumously.
Speakers described Wiens as an easygoing man who enjoyed making people laugh and customizing cars. They were also careful to point out one of the chief joys in his life: Cooper, his yellow Labrador retriever, who he referred to as "his son."
Kulongoski noted Cooper's assimilated status as a sergeant, meaning that he appeared to "outrank" his handler, by joking, "It was just to show Kory which end of the leash is in charge."
Nancy Walker and other members of the Oregon Police Canine Association were among those who brought their dogs to the ceremony. Walker said she was touched to be a part of a tribute to Wiens and Cooper.
"Any time you work with a dog," she said, "you become strongly devoted to each other."
A processional from the church to the final resting place for Wiens and Cooper at Salt Creek Ceremony followed the service.
Local residents emerged from storefronts and lined sidewalks along Ellendale Avenue to watch, waving flags and shrugging off raindrops. A huge flag dangled beneath two fire trucks at the Main Street intersection.
"It was extremely moving," said Kristine Palmer, a business partner of Kory's father, Kevin Wiens Sr. Palmer said she had known Kory since he was 13.
"Kory lit up every room that he walked into," she said.
Her husband, Michael, added: "Events like this make this occupation (the military) real to America."
Wiens is survived by his father, Kevin; mother, Judith; brothers Kevin Jr. and Kyle; sister, Lindsay; and his grandmother, Patricia McCalister.
Contributions can be made to the Kory Wiens Memorial Fund at any Washington Federal Savings branch.