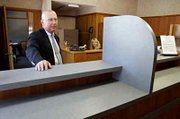 The City of Dallas bought the former Itemizer-Observer print shop last year and spent the past few months converting it into to much-needed office space for the police department.
The additional space tripled the square footage available for police staff.
The administration is still housed in the original station, but now the various patrol officers and lieutenants are down the hall.
Soon there will be a second entrance and waiting area open to the public. This entrance will be for citizens who need to pick up family members or meet with individual officers. All other basic business will be conducted in the front office.
Police Chief Jim Harper said an open house is planned soon.