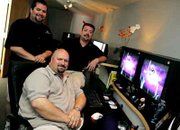 DALLAS -- Visual Media Center opened its cubicle at Tipps Copy Center in April of 2002. The one and only employee was owner Roger Pope.
"I've been doing this longer than I haven't. I started at age 15 selling logos - all designed by hand," Pope said.
"I then moved into T-shirt design and learned about silk screening."
After graduating from Dallas High School, Pope served a four-year tour in the Air Force. While there, he continued to design logos, letterheads and T-shirts.
When he was discharged, Pope headed for Seattle and the Seattle Art Institute.
After graduating from the institute he worked for a multimedia company, where he expanded his skills to include video and animation.
"I was learning how to run my own business," Pope said.
In 2001, Pope married Chelsea, moved back to Dallas and started a design business. His clientele and services have been expanding ever since.
Pope has his two employees, Jeremy Teal, a graphic designer, and Jonathan Chancery, a video producer. Together the three of them cover print, internet, video and a combination of all three marketing bases.
"Actually, it's hard to classify our different positions. We always said that when someone comes to work here they had to have a talent in their particular area, but that they also needed to be willing to learn new things and teach the rest of us," Pope said.
Pope said that his goal with Visual Media Center is to capture the personality of a business and its owner in print and on the internet.
"It's not just about creating a uniform look, it's about how that pamphlet, web site or business card makes you feel when you look at it. It's about creating an emotional response," Pope said.
Pope also said that ideally, his team would handle all design aspects of a customer's business.
"If a customer goes to one place to have business cards designed and then another place to have a brochure designed, each element is going to have a slightly different feel. If we do all the design and then send the final product out to the newspaper or the signmaker, the customer can be sure that thr graphic concept is consistent," Pope said.
Area business owners are responding. Pope's clientele has expanded to the point that earlier this year he moved the business into a new office space in Ellendale Plaza.
"It's important that business owners realize that they can have a professionally designed graphic concept that reflects their company's personality," Pope said.
Visual Media Center is at 289 E. Ellendale, Suite 601; 503-623-9501, and www.visualmediacenter.com.