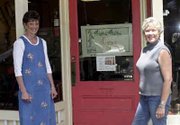 INDEPENDENCE -- Mary Lou Warren and Denise McCormick, new owners of Junk in the Trunk antique store, are not afraid of a little competition.
Far from it, in fact.
"With antique stores, everybody has something different. I don't look at it as competition. I just think the more you have in one place, the better it is, "Warren said.
"I could see that Independence is on the upswing," she added. There was an open building there with one antique store on the corner and two more down the street. It's just good to have those other businesses nearby.
"People can make one stop and go to five different places."
McCormick is a native Oregonian who lives bear Buena Vista. She was involved with Older Than Dirt Antiques in Suver for about nine years.
"I've just always liked antiques," she said. "I'm fifth-generation from this area, and I've acquired a lot of things from the generations before me. Old things were built so well. They last forever."
Junk in the Trunk, located at 130 C. Street in Independence, offers customers a bit of everything, from tools to glassware to furniture.
Business hours for the store, which opened in April, are 10:30 a.m. to 4:30 p.m. Thursday through Sunday. The phone number is 503-838-4364.
"Things are going pretty well," Warren said. "We've been pretty pleased. We've had a lot of positive feedback and a lot of people."