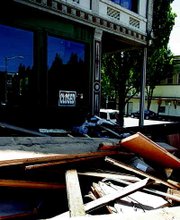 DALLAS -- There has been a lot of destruction going on at the old Courthouse Pub and Grill on the corner of Main and Court Streets in Dallas.
Crews have been gutting the turn-of-the-century business space next to Envy Salon to prepare for a full remodel.
In the coming months contractors will restore the ground-to-ceiling windows and completely refurbish the building to its former beauty.
The recent bar and grill atmosphere will be replaced by a new restaurant, L'Atitude Point One. So named because "Dallas, Oregon is only .1 degree off from being on the same latitude as Bordeaux, France - a region renowned for its wine and cuisine," chef and owner Jeanette Sinclair said.
Sinclair is fulfilling two longtime goals with her new restaurant.
First, she is moving to the Willamette Valley, something she says she's been wanting to do since her first vacation here nearly a decade ago.
Second, she's finally doing for herself what she has done countless times for others: opening a new restaurant by starting from scratch, which includes remodeling, and creating a successful menu.
Sinclair has been the head chef at restaurants in Bend, Arizona and Utah.
She has taught at Le Cordon Bleu in Scottsdale, Ariz., for a number of years and was recognized as Chef of the Year there in 2002.
"I've always worked in other people's restaurants," she said. "I do quite a bit of consulting. I've opened many properties for other people, and I was just waiting for the right time to open my own."
The menu at L'Atitude Point One will focus on local products and fresh produce bought directly from farmers whenever possible.
"I will be taking the local product that's available here and pairing it with local wines and microbrews. I'm really going to be focusing on organic produce whenever possible. There is just so much good stuff available in this region, why go anywhere else?" Sinclair said.
The atmosphere will be "Upscale, but not stuffy," she said. "We are really trying to keep it casual so you could come in jeans and a T-shirt or come in a suit and feel equally comfortable."
Sinclair said she plans a soft opening sometime this year. She said she wants everything to be perfect and will ease in having a full house.
"I'm a perfectionist. Perfect food, perfect drink, perfect service," Sinclair said.
"I want to work out all the kinks before we have a packed house. That's the only way to get people to come back. They have to have an enjoyable experience."
Eventually, Sinclair also hopes to create a cozy patio area, where she'll host live music during summer weekends.