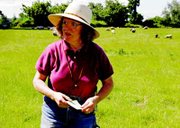 MONMOUTH -- It has been more than two years since Monmouth and Independence jointly developed a master plan to guide construction, management and funding for a trail that would connect the two cities.
Independence officials plan to finish an inaugural stretch of the project within that city's boundaries this summer, and are working on securing funding for a second phase in 2008.
But there has been little progress on the trail in Monmouth. Factors such as city staff turnover have kept the project from moving beyond discussion during the past few years.
"It's not being ignored," Mayor John Oberst said. "At this point, it's a question of how we can accomplish it."
The city faces a number of easement and other logistical challenges in trying to construct a desired trail alignment along Ash Creek all the way to Western Oregon University.
Oberst said an initial portion from Talmadge Middle School off 16th Street, northwest around the city's sewer lagoons and up to Hogan Road is feasible and that in the coming months, officials will consider ways to pay for an engineering study for that project and beyond.
"City council has adopted the master plan," Oberst said. "And this is definitely something I would like to see done.
"Maybe we can put ourselves in a position to start on it next year."
Officials approved a trail master plan in the spring of 2005, but there has been little work on the project since.
Former City Councilor Marc Miller said a municipal personnel shortage was one factor. Monmouth was without a full-time city manager, planner and recorder for much of 2006.
That was also a period when Monmouth was developing an urban renewal district, planning for a new city hall and creating a commercial enterprise zone, Miller said.
The trail "wasn't a real big priority back then," he said. "Frankly, the council had no money to pay for extra expense for planning on it."
With staffing issues now resolved - particularly the hiring of Mark Fancey as a full-time planner earlier this year - Oberst said Monmouth can root out funding options for trail engineering work.
Pursuing grants will be one avenue, he said. Independence has a community development technician heading that city's grant-writing efforts for the trail. Fancey will handle similar duties for Monmouth, Oberst said.
"Monmouth historically hasn't gone out seeking grants, and the council wants to change that," he said.
Public Works Director Craig Johns said the city's parks fund - which is fed by system development charges - contains about $400,000 for capital improvements and park expansion this fiscal year.
The Parks and Recreation Board is prioritizing potential projects - including new restrooms at Main Street Park and a soccer field at Madrona Park - for funding. Johns said there could be money available for trail planning.
Should work on the trail move forward, a 16th Street-to-Hogan Road connection would be a likely first step, Oberst said. The city and Central School District own the land the desired path would pass through.
Crossing Highway 99W, which would require an over- or underpass or a signal, will be much more problematic, as will securing easements along the creek west of the highway.
As its namesake implies, the vision for the trail has always been to have it hug the creek corridor. In Monmouth, the plan calls for a major section of it to flow through a 140-acre parcel of farmland between 99W and Riddell Road owned by Madeline Fisher.
The desired alignment for the trail would parallel the stream on the north side; Fisher is adamantly opposed to any path that encroaches on her property, which has belonged to her family since 1914.
The corridor is thick with vegetation and is used as nesting and foraging habitat by hundreds of species of birds and animals, Fisher said.
Several years ago, she approved a conservation easement on the corridor for the North Coast Land Conservancy, a nonprofit land trust that facilitates preservation of natural areas.
"Having this piece of undisected habitat is unique," she said. "We need to save it for the future."
Fisher said she knows that her property was included on the desired alignment for trail, but says she has never been approached about a possible easement.
And, "There's no use approaching us about it," she said. "It's not in our plan.
"My contention for an urban path is that it should be in an urban area."
Oberst said the city is aware that not all of the easements will be granted, and that officials would use alternate alignments when necessary.
"In those situations, that's where surface streets will be options," Oberst said.
--
Master plan overview
The 2005 master plan describes a desired trail alignment that begins at Talmadge Middle School, crosses 16th Street then runs along the northern edge of Monmouth's wastewater facility.
From there, it would follow Ash Creek to Gentle Woods Park, cross Highway 99W and hug the creek's route north, then west out to Riddell Road.
It would eventually run along the western perimeter of Western Oregon University's athletic fields and end at the intersection of Church Street and Stadium Drive.
There would be signed access points at the intersection of Kayla and Olive streets, on Myrtle Street and another connection in the Western Estates Subdivision.
Officials have not yet devised a cost analysis for Monmouth's portion of the trail. The master plan, however, estimates the cost at $1.8 million.