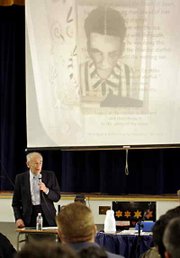 MONMOUTH/INDEPENDENCE -- Fifteen-year old Sam Thompson pored over a short written history of Holocaust survivor Alter Wiener inside Talmadge Middle School's auditorium, just a few moments before Wiener himself was set to speak.
"It's pretty intense," said Thompson, a high school sophomore from Monmouth. "Like some of the books we've been reading -- 'Night' and 'Schindler's List.'
"You don't realize this was real until somebody who lived it is up there telling it to you."
Thompson's was a sentiment likely shared by many of the 250 young students and community members who flocked to Talmadge last Wednesday to hear Wiener recount the loss of his family during Germany's occupation of Poland, and three years spent toiling in Nazi labor and concentration camps.
The 80-year old Polish Jew now lives in Portland and travels across the state to speak on behalf of the Holocaust Memorial Museum in Washington, D.C. His Independence visit was spurred by Talmadge faculty who are teaching Holocaust-related literature in the classroom.
The student chatter in the auditorium -- typical at any middle school -- ceased the instant Wiener began his emotional tale of suffering and survival during World War II.
"I'm not going to entertain you tonight," Wiener said. "I'm just going to tell you a true story which might seem unbelievable to you."
Wiener was born and raised in Chrzanow, Poland, the son of a local grocer. He said his was a quiet, idyllic life until Sept. 1, 1939 -- the day Germany invaded Poland.
"That good life came to an end," said Wiener, then 13. "We were advised to flee."
His father was ordered to stay behind to supply the Polish army with provisions from his store, but not before he hired a coachman to evacuate Wiener, his stepmother and two siblings. They were stopped by German soldiers 40 miles from town.
They returned to Chrzanow two months later and learned that Wiener's father and 36 other local Jews had been shot and buried in a shallow grave. Wiener watched as the bodies were exhumed.
"I saw my father's decomposed face at the age of 13," he said. "I have nightmares to this day."
His community and rest of the nation lived under Nazi occupation for a year and a half. In June, 1941, his brother was transferred to a labor camp. A year later, it was Wiener's turn. "I never had a chance to say goodbye to my stepmother and stepbrother," he said.
Wiener was shipped to a camp in Blechhammer, where he was reunited with his older brother. He spent the next several months being beaten by soldiers and living in a lice-infested 8- by 10-foot barracks with 24 other prisoners.
Daily rations consisted of two slices of bread "made almost entirely from sawdust," he said.
He would be moved from camp to camp for the next two and a half years. In October 1942, he was separated from his brother and never saw him again. At his third camp, in Grossmaslowitz, he worked in warehouses unloading the belongings of slain soldiers.
Wiener said it was there that a kindly German woman risked her life by every day for a month leaving Wiener a sandwich "made of two slices of bread and white cheese."
"Maybe she wanted to make a point that not all Germans were cruel," Wiener said. "I learned then that I had no right to hate Germans as a people."
Referencing the war in Iraq, Wiener continued, "To me, prejudice makes no sense. You're going to find good and bad people in every group."
Wiener's stepmother and stepbrother were killed at Auschwitz in 1943. In September 1944, he was moved to a concentration camp in Waldenburg, where he was given an identification number -- 64735 -- and a uniform "with no pockets."
"You were deprived of even the most basic possessions," Wiener said. The abuse, starvation, and the loss of his family were taking their toll and Wiener said he contemplated suicide in 1945.
"We felt abandoned," Wiener said. "We asked ourselves how this could go on, the slaughter of an innocent people."
On May 9, 1945, the Russian Army liberated the Jews in Waldenburg. "We had no idea what was going on," Wiener said. "We were in a haze, and I was so weak I couldn't even walk out of the city."
Wiener weighed 80 pounds, had lost all of his teeth and all but two toes by the time he left the camp.
"Doctors told me that maybe I can live another two years," he said. "Those doctors are dead now, but I'm still here."
Wiener made it back to his hometown, where he reunited with four surviving cousins. Survival in post-war Poland was difficult, Wiener said. People freed by the United States and England were better off because they were supported through refugee camps. "The Russians left us to be on our own," he said.
Wiener managed to scrape by doing janitorial work for several years and later became an accountant. He emmigrated to the United States in 1960. Today, he's married with two sons and four grandchildren.
Wiener said he went for years without talking about his experience until officials from the National Holocaust Museum approached him about telling his story. He plans to publish his memoirs in the next few months.
"I now speak whenever I'm invited," said Wiener, adding that he believes Holocaust survivors have a "a moral obligation" to enlighten others about history.
"If we forget, we might have another one," he said. "It's happening in Darfur, the Sudan ... and it eventually effects all of us. Indifference is a sin."