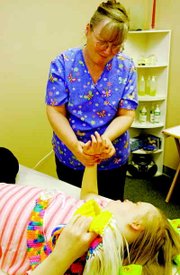 DALLAS -- Linda Poling uses her training to treat a variety of ailments in adults, but her work with disabled children is what sets her apart from other massage therapists in the area.
Poling has been an occupational therapist since 1970 and in 2003 expanded her skills to include massage therapy.
"I don't necessarily want the `spa' type client. I can handle and enjoy the more delicate clients - people with autism, fibromyalgia, cerebral palsy or other types of ailments," she said.
Poling has worked with Willamette ESD for eight years, helping children from birth to age 20 who have sensory issues.
One of her clients is 20-year-old April Poling, Poling's second child. April was born with Down Syndrome and Autism. There was a time when Poling couldn't even touch her daughter because it was too much for April's sensitivity.
"When April was born I went through a sort of grieving process, and I see a lot of my clients' parents going through the same grief," Poling said. "You have to re-evaluate all the expectations you had for that child ... but you learn so much, too.
"April has taught me so much about nonverbal communication and compassion."
Now, April is eager to have a massage. Poling said the young woman comes in, sits right down on the table and makes it clear exactly what she wants to have worked on. All without saying a word.
"Touch is so frowned upon in our world. I really enjoy having a child come to me and being able to teach them how to get a massage and what is good appropriate touch," Poling said.
One method Poling uses is called CranioSacral Therapy. It is a light-touch therapy that focuses on the client's head with the aim of releasing tension through the body.
Poling has found this particular type of therapy is perfect for many of her clients, especially the newer ones who haven't yet become comfortable enough for a full massage.
Also, Poling teaches parents and caretakers techniques that can be used between sessions to help maintain progress and comfort their children.
"I had one parent tell me she is so happy to finally have something she can do to relieve her child's discomfort ... you know, that's what I do. I give people tools to help. I don't cure people - but I can get their bodies jump-started so they can cure themselves," Poling said.
Poling treats non-disabled and adult clients as well, but her focus is on people who may need a lighter touch and could benefit from her occupational therapy background.
"I love the work. I love having somebody come in and say `Linda this is what is really bothering me' and then being able to use every tool I have at my disposal to help them recover," Poling said.
Poling's office is at 306 Main Street in Dallas. She can take new clients, but doesn't accept walk-ins. Her phone number is 503-508-5812.