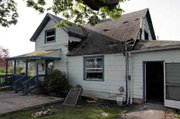 INDEPENDENCE -- A fire caused by spontaneous combustion partially destroyed a converted home used by Partnerships in Community Living last week, officials said.
The older two-story dwelling at 3835 Independence Highway was leased and served as a woodworking shop for six employees of the non-profit organization.
PCL provides services and job opportunities to people with developmental disabilities.
The damaged facility's staff and clients have been transferred to another PCL businesses in Independence. But it is uncertain if the shop will be repaired or opened elsewhere, said Zellee Allen, executive director.
"We certainly want to continue," Allen said. "But we haven't had a chance to discuss what we're going to to do ... we don't know what will become of the home."
Interim Chief Jason Cane of Polk County Fire District #1 said that paper towels stained with linseed oil left sitting near a stairwell on the ground floor spontaneously caught fire.
The incident was reported about 7:30 p.m. on May 9. By the time firefighters arrived, flames had spread to the ceiling and into the attic. The house was unoccupied at the time of the fire.
Crews contained the blaze after about half an hour. Cane estimated the damage to the home at almost $40,000. Also lost were the wood and power tools on the ground-floor shop.
A caretaker's trailer behind the house wasn't damaged.
Employees created bird feeders, cedar planters and other garden crafts at the home. Those items were sold at PCL's nearby New Seasons Nursery and other businesses.
Teresa Gatman, assistant manager of the nursery, said electricity and water to the nursery - which shares a well with the home - were halted for a few days because of the fire.
Neighboring Setniker Farms stretched a hose onto the nursery property to provide a temporary water source, Gatman said.
"They have been really kind and great," she said. Without irrigation, "we could have lost all our vegetables and everything else, especially because of the weather."
Jackie Nicholson, a PCL support staff member, said the clients who worked daily in the shop were "pretty upset" over the loss of the facility.