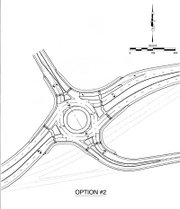 POLK COUNTY -- Last week, Ladd and Eileen Martinson's East Dallas area neighbors were invited to view some conceptual intersection plans. The plans are designed to change the way drivers access the Martinsons' 142.4-acre parcel adjacent the Highway 22 overpass.
The Martinsons' property has access points now, but both points are managed by stop signs located at either end of a narrow gravel road that runs between Ellendale and Highway 22.
The two stop signs are not sufficient to manage the traffic growth projected should the Martinsons build their $6,185,520 Measure 37 development.
That is why the Martinsons are working with ODOT and a private engineering company to redesign their access points.
In order to build, the Martinsons must show ODOT that with a few changes, traffic flow in that area won't see a negative impact from the new development.
"If you (the developer/applicant) can meet the safety criteria and you can mitigate your impacts to the highway, we have to approve your application, unless you have reasonable access elsewhere," said David Warren of ODOT.
The Martinsons don't have reasonable access elsewhere, so engineers with Kittelson & Associates have proposed two basic concepts to manage new traffic: a roundabout or a four-way stop.
A third option, an underpass, is considered to be cost-prohibitive.
The kicker in all of this, according to Warren, is that if ODOT denies the Martinsons' access permit, it could be facing a property purchase.
"You have the right to apply, ODOT has to accept the application. If we deny the permit and you don't have any other reasonable access, we have to buy the property," Warren said.
If the access permit is granted, Kittelson engineers are suggesting that ODOT seriously consider a roundabout rather than an intersection.
"Roundabouts are designed for entry at 25 miles per hour. They force traffic to slow down by virtue of their design. A vehicle can't make that turn at 55 miles per hour, they would have to slow down," said Erin Ferguson, an associate engineer for Kittelson.
"In a roundabout, if drivers do run into each other it's really more of a sideswipe then a direct impact and it's typically at lower speeds. So fatalities in such impacts are far fewer."
Hermanus Steyn, another Kittelson engineer, said that a public education campaign would be vital if a roundabout was approved. He said the roundabouts he has worked on in Bend were met with strong resistance at first, but became popular once people realized how much safer they are than intersections.
The Martinson's Measure 37 claim has passed muster with the county and the Department of Land Conservation and Development. Its only obstacle is how residents and customers would access the development.