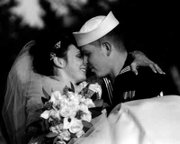 Flande-Schrouder
Lisa Hallauer Flande of Everett, Wash. and Gregory Paul Schrouder of Everett were married Nov. 25, 2006 at BeckenRidge Vineyard in Dallas.
The bride is the daughter of Joseph and Vicki Flande of Dallas. The groom is the son of Don and Joan Schrouder of Eugene.
The Rev. David D.M. King officiated the ceremony.
Maid of honor was Laurie Williamson and the bridesmaids were Cherie Smith, Erin Kemphues and Marie Zaharia.
Best man was Christopher Sorric and the groomsmen were Kyle Gilliam, Brett Kemphues and Jacob Zaharia.
Lisa, a 1999 graduate of South Salem High School and a 2001 graduate of Umpqua Community College, is a full-time paramedic for American Medical Response in the Tacoma area and a student at Excelsior College.
Gregory, a 1996 graduate of Sheldon High School in Eugene, attended Lane Community College. He is a nuclear engineering laboratory technician for the United States Navy stationed on the USS Abraham Lincoln CVN-72.
The newlyweds honeymooned on the Oregon Coast and make their home in Tacoma, Wash.
More like this story