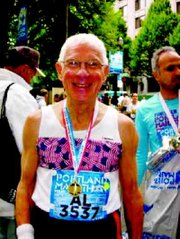 POLK COUNTY -- Al Oppliger admittedly is not a fast long distance runner. His goal is a simple one -- to finish.
But the Monmouth resident did that and more recently when he captured first place in the 75-79 age group at the Portland Marathon.
"I was totally surprised as the results were announced," Oppliger said. "For sure, I had not trained adequately to be able to compete well at that 26.2-mile distance. Secondly, no results had been posted for my particular age group at either the finish line or at the awards ceremony that afternoon. I had no idea of what position I had finished."
Eight others finished in Oppliger's age group. Oppliger hoped to finish in five hours or less but was timed in 5:37:13. Ralph Riddick of Spokane, Wash., ran second in the age group in 5:45:05.
The race included almost 8,000 participants and was run in near ideal conditions.
"My time was about an hour slower than any previous marathon I have run," Oppliger said. "It was a result of not getting enough long endurance training runs during the months leading up to race."
While Al was running the marathon, his wife Jayne competed in the Five Miler, one four running/walking events on the day. Jayne finished fifth in her age group and was at the finish line when Al came across.
And when is Al's next marathon?
"Probably never," he said. "I have promised Jayne that this would be my final effort at training for and trying to run the 26.2 miles."
************
Perhaps the biggest question about the Hood-to-Coast relay is why? Why do people want to be part of a race that is 197 miles long? Why do people want to spend a full day or more cooped up in the back of a van or similar vehicle? Why do people want to run on lightly traveled backroads in the middle of the night?
Why? Why? Why?
"It's a lot of fun," said Lisa Trimble-Scheirman of Monmouth. "It's completely different than going out and doing a run by yourself or doing a weekend 5K. It's very team oriented. It's kind of a highlight for me and a lot of the runners on our team.
"Granted, when it's three or four in the morning and you're out there running, you're thinking, 'What in the world am I doing?' But when the sun comes up and now you're on your last leg, it's worth it. It's fun."
The race was the brainchild of Bob Foote and started it 1982 with eight 10-person teams. The event quickly became popular among those who enjoy adventure as well as those who never have heard it's possible to have too much of a good thing.
By 1999, it became necessary because of safety issues to cap the Hood-to-Coast field at 1,000 teams. The field has been filled by the end of the first day of registration for the past eight years.
The course starts at Timberline Lodge. It goes through Government Camp down Highway 26 into Portland. The runners then turn north on Highway 30 through Scappoose to St. Helens. From there, everybody turns west through Mist, Jewel and Olney to the finish at Seaside.
Trimble-Schierman has been competing in the race since 1997 and for the past six years has run for Team GFR, named for Gallagher Fitness Resource of Salem.
In the 2007 race, Team GFR finished third in the women's open division with a time of 22:55.25, their best ever. In the past six years, the team has placed as high as second and no lower than fifth.
Other members of Team GFR were Sue Schmidt, Stephanie Kercheski, Annie Gorski, Stephanie Snyder, Nina Ceja, Tonya Lutz, Denise Coomes, Terra Yates, Evelyn Williams, Kelsi Eisele and Jennifer Johnson.
Each team member must complete three different legs of the course, which vary in length from 3.7 miles to 7.4 miles.
"We were very, very excited about getting our time under 23 minutes," Trimble-Scheirman said. "I think we were projected to get fourth or fifth, and we were able to get third. Nothing too unusual happened. Everyone was able to run all of their legs.
"A couple of times, we ended up at the wrong exchange (point), but we were able to get it fixed without losing any time. Overall, the weather was good. It was not too hot. It did rain a little bit on the last few runs through the Coast Range. We did fairly well. After doing it for six years, you kind of get it down."
************
LaCreole Middle School teacher Rebecka Hartkop recently finished 11th in the women's A division of a cyclocross competition at Alpenrose Dairy.
The event is one of seven in the Cross Crusade, which concludes Nov. 18 at Hillsboro Stadium.
"It was all right," Hartkop said, describing her performance. "Definitely, my fitness was not where it should have been. I took some time off in the summer, and I did another big race -- the Eugene Celebration -- when school first started. That was three days of road riding. After that, I didn't ride the bike very much. My handling skills were pretty rough."
Cyclocross racing started in Europe in the early-to-mid 1900s and is growing in popularity in the United States. Cyclocross courses often feature "run ups," which are short, muddy inclines where participants are forced to dismount and carry their bicycles uphill.
"It's a cross between mountain biking, road cycling and cross country running," Hartkop said. "It's an odd mix. You come off the road racing season with whatever motivation and fitness you have left and just have a good time ."
Hartkop also was third of 40 senior women's riders in the 2007 Oregon Cup, a series of seven races that started in March and ended in May.
"I had a couple of lousy finishes, she said. "I'm not a good sprinter. I'm kind of new to racing. I haven't quite finished out the pack finishes. Everybody kind of keeps together for most of the race. I haven't figured out the placement of that, yet.
"I'm a hill climber. I like to go up hills. I like it where there's a 1K hill climb at the end. I can take off early and spread everybody out."
Hartkop is a Michigan native who moved to Oregon with her family at the age of 13. She attended Central Point High School and earned bachelor's and master's degrees at Oregon State.
She was a runner and swimmer throughout her youth and started competing in triathlons during college. She later turned to bicycling and its various forms for financial as well as social reasons.
"Triathlons are really expensive," the life science/social studies teacher said. "I couldn't afford to do more than one or two a year. I decided I'd rather do six or seven bike races for $20 apiece.
"With cycling, especially is this area, there are a lot of great people out there. There are a lot of professionals and a lot of good people out there. You get with a group and there will be some people 50-60 (years old). Then a couple of college kids will show up. It's a great mix of people. You have all their different interests. Then you out them on a bike, and everybody has something in common. It's definitely a place to meet people who are interested in being healthy and active. It's just fun."