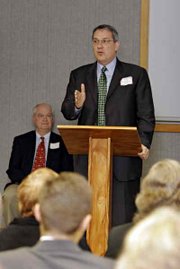 MONMOUTH - Western Oregon University's new nursing program will begin admitting its first students next fall.
Last week officials from the college and its partner in the academic venture, Oregon Health & Science University, held a dedication ceremony to recognize the new degree and to provide a sneak peek at what the program facilities will look like.
Almost 50 faculty and administrators from both schools, as well as state, county and local leaders attended the Nov. 16 presentation.
"This is taking a great step forward in meeting the health care workforce shortage," said Dr. Joe Robertson, OHSU president.
The program "demonstrates the power of partnership between the higher education institutions, hospitals and government to put something together that will have a major effect," he also said.
Western faculty will teach general education and science courses, while OHSU instructors will handle the actual nursing curriculum.
Western received $705,000, and OHSU $1.4 million, in the current biennium for faculty, equipment and administration costs.
"We're humbled by this partnership with one of the best nursing programs in the country," said John Minahan, Western president.
The state provided $4.5 million during the last legislative session to overhaul a portion of the old Department of Public Safety Standards and Training building to accomodate the nursing program.
The 9,000-square-foot second floor will house simulation, computer and skills labs, office and storage space. The downstairs area will be dedicated to the university's math department. Construction will begin in March and take about five months.
Minahan touted Western's ability to prepare undergraduate science majors for medical and health sciences professions.
Biology majors regularly score at the 90th percentile and above on a national test administered to seniors by the Educational Testing Service, he said.
One of OHSU's long-range goals is increasing the diversity of enrollment, said Sandra Taylor, dean of the college of nursing.
The partnership with Western, which has traditionally served first-generation and minority students, will help advance that initiative, she said.
Oregon is in the midst of a nursing shortage. A July 2006 national nursing workforce survey indicated that 55 percent of nurses surveyed reported their intention to retire between 2011 and 2020.
The report also states that more than 703,000 new registered nurse positions will be needed by 2014, accounting for 40 percent of all new jobs in health care.
Figures are even more dramatic in Oregon's smaller towns and rural areas of the state.
"Bachelor's trained nurses bring critical thinking skills to the bedside based on a broader educational platform," said Norman Gruber, president and CEO of Salem Hospital.
"We would like to see a bachelor's program develop in the Salem area that would allow associate degree nurses to move to get their bachelor's degree as well as educate new nurses in the field."
Approximately $500,000 is still needed to fund the simulation laboratory, and is being raised through private funding, officials said.
The facility will utilize automated mannequins that simulate a wide range of patient health conditions and require the proper treatment responses.