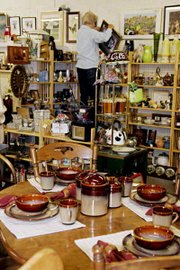 INDEPENDENCE - Perched atop a ladder, Jody Ring hunts for room to hang some framed pictures in a corner of the Second Street Mall.
An antique dealer from McMinnville, Ring leases several spots inside the Independence store and visits once a week to re-stock and re-arrange her shelves of candleholders, lamps, old tools and other items.
"I love it when I come in here and find empty spaces," she said. "That means I must have sold something."
Ring is a vendor at antique stores from Salem to Lincoln City. She has been with the Independence mall at 281 2nd St. for a few years and says its becoming more of a destination for antique hunters and sellers like herself.
The 6,400-square-foot facility opened in September 2004 and is now home to about 30 dealers from across the Willamette Valley who sell a variety of collectibles, old cookware, vintage jewelry, clothing and other wares. The Wittenberg family, which owns the mall, also has a large section for antique furniture.
"That's the wonderful thing about these malls," said Marian Olson, Ring's mother and sometimes assistant. "You would be surprised at what you can find ... you can find anything for anybody."
The mall itself has some historical relevance to Independence - it had originally been a grocery store when it was constructed in 1945. Marge Wittenberg of West Salem, her husband, their son and his wife purchased the building in 2004 and spent about six months doing major interior renovation and some fa‡ade improvements.
Wittenberg said they saw the property as an investment - and antiques as a practical business opportunity, given Independence's pedigree.
"This town is growing, it's active and we wanted to be a part of it," Wittenberg said.
With the amount of floor space available, the Wittenbergs decided to operate as an antique mall instead of a traditional shop. Vendors from throughout the valley flocked to the site and filled it to near capacity.
Wittenberg said her dealers diversify their offerings instead of specializing.
"We usually won't have dealers who sell all glass things, for example," she said, "because you're limiting your buyers ... you would have to sit there and wait for one guy to walk in who wants the exact type of dishes your selling."
The Wittenbergs added a large furniture section in the rear of the store last May. Marge Wittenberg takes items on consignment or frequents estate sales and auctions for different pieces.
"There are a lot of people who want oak furniture that's 20 years or older, they don't want it new," she said. "Painted and wicker furniture is also a big seller, we can't keep enough of those in."
Wittenberg said a common question she gets is whether there's too much competition for antique dollars in Independence, with several stores already in the downtown core.
Wittenberg assures that that isn't the case, noting that she and several other business owners actually purchase print advertisements together.
"We all deal in different stuff," she said. "250 South Main (Antiques and Fine Art) has a lot of jewelry, Dan Weaver at Main Street Antiques does high-end items ... we compliment one another, that's why it's successful."
Meeting new customers - "we've got buyers from Washington and California" - is the best part of running the mall, Wittenberg said.
"We've met so many people from the surrounding towns," she said. "They become regular customers and friends."
Second Street Mall is open from 11 a.m. to 5 p.m. Monday through Saturday, but is closed on Wednesdays. It is open from noon to 5 p.m. on Sundays.
For more information: 503-838-1788 or www.secondstantiques.com.