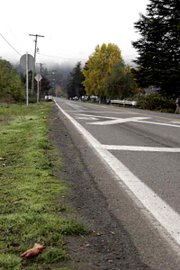 DALLAS -- Large sections of Godsey Road don't have sidewalks. And Linda Bays, a resident on Godsey, is concerned about the school children who walk that road every day.
"The cars don't necessarily obey the 25-mile-per-hour speed limit for the whole stretch of road," Bays said.
Godsey is a road located east of Whitworth Elementary, running north-south between Monmouth Cutoff and Miller Avenue.
At the Miller end there are sidewalks along the east side of the road, but only a shoulder runs along the west side.
All sidewalks stop at the railroad tracks, halfway between Monmouth Cutoff and Miller.
"This is something that we are looking at as we plan our street improvements," said Community Development Director and Interim City Manager Jerry Wyatt. "It is on our capitol funding list. We know it's an area that needs some work."
A variety of funding sources could be available for road improvements. Wyatt said that he and his staff are looking to federal and state grants and road improvement funds to pay for a Godsey Road upgrade.
He said the city wants to eventually run a continuous sidewalk on the east end of Miller between Whitworth and Godsey.
The city then wants to pick up the sidewalk at the railroad tracks on Godsey and run it south, giving kids a safe path to walk on that road.
Wyatt said community members should see improvements in the next few years.
"It is on our radar - we're just trying to get the funding in place," he said.