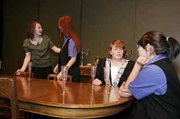 DALLAS -- The Dallas High School Thespians are using the black box theater form for A.R. Gurney's "The Dining Room."
Last fall was the first time guest director, Aaron Fawcett, and theater teacher Blair Cromwell introduced the black box format to Dallas High School actors and audiences.
"It's educational theater and the whole idea is to give people as many experiences as possible, because many of these actors are going to go on to participate in other programs," Fawcett said.
"The black box is an intimate theater setting, where the audience - as opposed to sitting 20 feet away - is sitting on stage, three feet away, breathing down the actors' necks," added.
Cromwell described The Dining Room as an examination of the ideals we have about family, love and life, and how reality fails to measure up.
"Walt Disney called his design for Main Street USA at Disneyland `fairytale reality' - a truthful copy of a past that never really occurred anywhere real," Cromwell wrote in a play synopsis.
Written in 1982, The Dining Room takes place in an upper class New England home, and follows the various stories of families who have inhabited that home's dining room during its long existence.
The cast plays various characters, in various time periods that at times overlap and intersect.
While on its surface The Dining Room is exploring New England WASP culture, many of the issues raised are universally American.
Among them are the idea of keeping up appearances, maintaining rituals as a way to create permanence, and the reality of life in families obsessed with maintaining idealized illusions.
Gurney tackles his subject matter with irreverent humor and understanding that challenges actors to humanize characters who could too easily become characters.
Each of the DHS cast members - Lance Baker, Spencer West, Caleb Munro, Jeff Babcock, Desi Friesen, Taryn Trowbridge, Sarah Wright and Robin Jenkins - will play several chartacters.
The play will have four performances: at 7 p.m. on Thursday, Nov. 1; 7 p.m. on Friday, Nov. 2; and at 2:30 and 7 p.m. on Sat., Nov. 3.