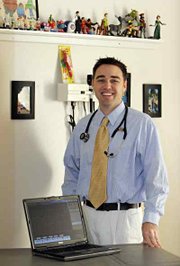 DALLAS -- After seven years serving as a Naval doctor, William D. Peffley, DO, has settled with his wife and four children - and Steve the dog - in Dallas.
Peffley said he and his wife wanted a small, close community in which to raise their kids. After moving every few years, they were ready to settle in.
"It had to have a Dairy Queen, it had to have a recreation center and parks," Peffley said. "I wanted to be a small-town doc, I wanted to walk into a store and run into my patients. This town is sort of Norman Rockwell-like. It is exactly what we were looking for."
He called around the country asking various hospitals if they needed doctors. He landed at West Valley Hospital by chance, because although it was looking for a staff physician, it hadn't made it public yet.
Peffley will split his time between his private practice and shifts at the hospital, sometime back-to-back ER shifts.
Peffley admits to being goofy and sentimental, which is apparent when you step into his examining room in his new practice. On the walls are pictures of Peffley with his children, making silly faces.
Also on the walls are Star Wars action figures. They were gifts from home while he served in Kuwait.
"I had all of them when I was a kid and at one point I mentioned this to a friend - pretty soon I was getting one action figure a month. At Christmas time I had a little tree and I set them all up under it. My little Star Wars family.
"I'm admittedly a nerd," Peffley added, with a big big grin.
His self-deprecating manner belies strong credentials and experience both in traditional and osteopathic medicine.
Doctors of osteopathic medicine have an additional four years of training to get their DO certification. Osteopathic medicine takes much of its practices from chiropractic work and applies them along with traditional medical practices.
"The idea is basically that if something is misaligned or not flowing properly, then the body can't heal itself as efficiently. Most people think of DOs as being more hands-on," Peffley said. "There is definitely more touch involved with osteopathic practices, and the healing power of touch really can't be under estimated."
His new office will open at 8 a.m. on Thursday, Nov. 1, at 201 SE Washington Street, Suite B.
Peffley and his officer manager, Natalie Bathke, will welcome new patients and community members who just want to drop in and say hello.
Peffley accepts Medicare patients. For more information: 503-623-1200 or www.oregonfamilyhealth.com.