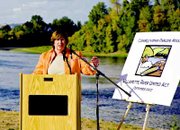 POLK COUNTY -- Congresswoman Darlene Hooley traveled by boat to river communities between Eugene and Portland last week to announce, and rally support for, proposed federal legislation to fund economic development projects on the Willamette River.
Ironically, her visit to Independence on Sept. 4 required the use of a car.
The boat ramp at Riverview Park is currently all but impossible to access because of the low water level and nearby gravel bar -- as is usually the case during summer months.
"We had to get off the boat in Buena Vista and drive over," said Hooley to about 50 residents, county and municipal government officials who gathered at the park for her appearance.
But the inconvenience only serves to further illustrate the need for the bill, dubbed the "Willamette River United Act," she said.
Per the proposal, the Department of Interior would provide $10 million in funds annually during the next decade for conservation efforts, historic preservation and community development projects.
"As we were traveling downstream, I was mentioning to others what an amazing place the river is," Hooley said, "but there was nobody on the river.
"Too few people utilize it," she continued. "And we want to change that."
Hooley plans to introduce the bill in the U.S. Legislature this week. The goal is to have it authorized by next fall, she said.
The proposal was borne out of efforts to acquire funds to keep the Willamette Locks in West Linn open a few years ago, she said.
Residents of river communities inquired during that period how they might receive federal support for their own respective areas, Hooley said.
Under the bill, the Oregon Parks and Recreation Department and Oregon Watershed Enhancement board would act as pass-through agencies for federal money, and would administer grants for projects by local governments and groups.
The applicants would have to provide a 35 percent match. "We don't have a maximum limit on grants," she said. "We want to make it easy for communities of all sizes to get funds."
Watershed restoration, recreation and tourism projects and historic preservation are among the projects covered by the bill.
Independence officials have stated they would pursue a grant if the legislation is approved.
The North Riverside Development, which entails new athletic fields, a boat ramp and residential and commercial buildings in the northeast corner of the city, would be likely candidates.
City Councilor Jerry Hoffman said a new boat ramp would provide much-needed access.
"I would like to see more people on the river here..boaters and fishermen," Hoffman said. "Most towns would kill to have this kind of asset at their front door ... we can't just let this sit."
One potential use not included in the proposal is river dredging.
Federal funding for dredging comes out of the Army Corps of Engineers budget. While this section of the river is an authorized channel, it doesn't qualify for monies because it's primarily used for recreational traffic and not commercial boats, said Joan Evans, Hooley spokeswoman.
The Corp doesn't "currently view it as 'economically justifiable,'" Evans said.
That news disappointed Rob Worral, who owns an antique shop on Main Street.
Worral said while a functional boat ramp in the North Riverside development is obviously an improvement over the current situation, "it doesn't solve all the problems because most people are still in the downtown and this would move them away.
"Our dream is to have a riverboat be able to tie up to Riverview Park," he also said.
"I think dredging needs to be a piece of something that happens."