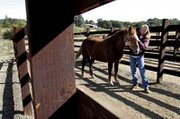 DALLAS -- "Mustangs come in all shapes and colors. They are feral. They are beautiful," Debbie Driesner says as she examines a map of Oregon's wild horse reserves.
"Some day I want to visit every one of Oregon's reservations and photograph the horses in their natural environment, just so I can say I've done it. I've seen all the wild horse herds in this state," she added.
For Driesner, mustangs are more than a hobby or passion. The fuzzy ponies with kind, intelligent eyes have determined her life's direction.
The Merriam-Webster dictionary defines a Mustang as "a small hardy naturalized horse of United States western plains directly descended from horses brought in by the Spaniards."
The word Mustang comes from Mexican-Spanish term mestengo, or from the Spanish term meste¤o. Both mean "stray."
And that's what they are: stray horses.
Driesner has spent a lifetime bringing home strays. She has spent 20 years working for the Oregon Department of Agriculture as a plant inspector, but her true career didn't didn't begin until the day she met a lop-eared horse named Eeyore.
In 2000, while camping in the Ochoco National Forest with the Marion County Sheriff's Posse, Driesner heard a story about a wild horse with malformed ears who had become aggressive toward trail riders who strayed into his territory.
Bureau of Land Management personnel were trying to capture him so they could adopt him out through their wild horse adoption program -- assuming he could be caught and tamed.
The BLM asked horse campers to watch for the pony who had been dubbed Eeyore.
Driesner had never adopted a mustang before, but she had years of experience riding and training quarter horses. She told the BLM she'd take Eeyore, site unseen, if they managed to catch him.
A few weeks later Driesner was loading her new charge into a trailer for the long drive back to Dallas.
"He was very docile with people. He loaded right into the trailer, no fuss. He almost seemed relieved in a way,' Driesner says.
Eeyore adapted quickly to domestication. Before long, Driesner was training him as a trail horse and for showing.
However, while Eeyore flourished under human care and accepted Driesner's other quarter horses, he refused to accept another mustang on his property.
"I think he was really traumatized as a colt," Driesner said. "Because of his ears he can't communicate like other horses, and I think he was ostracized early on. When I brought home more rescued horses I had to separate him for a long time, because he had already established this as his territory. He didn't want to give it up," Driesner said.
Despite his initial irritation at the new tenants, Eeyore grudgingly accepted that Driesner was going to continue to bring home strays and that he'd better get used to it.
Through all of that, Driesner and Eeyore's friendship grew. So did Driesner's new vocation. Before she knew it, she was fielding weekly calls from people who needed a safe foster home for mustangs who had been rescued from abusive homes.
"It's sad -- people often adopt these mustangs with the best of intentions, but then expect them to behave like domesticated horses, which they aren't. Too often people adopt them and then realize that they can't handle the mustangs' unique temperament. Or worse, they adopt a mustang as their first horse and end up terrified of the animal," Driesner said.
She wants to change that. Almost three years ago she formed the nonprofit Mustangs and MOHR (Mustangs Offering Hope and Renewal) to rehabilitate rescued mustangs and at-risk youth.
"We pair foster children, or children serving out community service, with our mustangs. Together they learn to trust and care for each other," Driesner said.
The youth volunteers are kept away from any of the dangerous horses, but are allowed to handle, groom and even ride the docile charges, like Eeyore or Sunshine (another mustang rescue).
"When the animals reach out to them, it is just beautiful to watch the connection. They heal each other," Driesner said.
Now that her initial dream of pairing kids and horses is taking shape, Driesner wants to expand her operation and the types of services she offers.
The biggest thing is to start holding workshops to teach new mustang owners how to tame and gentle their wild horses, so they don't end up in a facility like Mustangs and MOHR.
"These horses are incredible, intelligent and curious, which can be used in their training, but can also work against them if you don't know what you are doing. They aren't like domestic horses -- they take a special hand," Driesner said.
On Sunday, September 16, from 2 p.m. to 5 p.m. Driesner will open her gates to the public so people can come and learn more about mustangs.
"It's a chance for people to come, eat barbecue, bid on silent auction items and learn more about what we do here," Driesner said.
Some of Driesner's youth volunteers will help her perform a small mustang show for the audience. Then she will mingle and answer questions about the program.
"The need is so great," she said. "I get calls all the time from people trying to place a rescued mustang, and I just don't have the space or staff right now. That's where the silent auction comes in. Hopefully we'll raise enough to be able to hire someone full-time to help with the horses and kids during the day while I'm at work," Driesner said.
For more information: Mustangs and MOHR at Double D Mustangs www.mustangsandmohr.org, or Debbie Driesner at 503-623-8430.