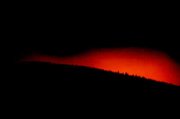 POLK COUNTY -- Firefighters had fully contained a 425-acre wildfire near Bald Mountain in rural Polk County on Tuesday morning, officials from the Oregon Department of Forestry (ODF) said.
The blaze is believed to have originated at noon on Sept. 8, about five miles southwest of Falls City, officials said. Dubbed the 1500 Road Fire, it's made up of two fires, each more than 200 acres, burning a half-mile apart on ODF-protected private forest land.
Crews managed to set up a perimeter around the fire and halt it by Monday evening, said Rod Nichols, ODF information officer.
"Today, we're entering the mop-up phase," Nichols said. "Fortunately, the dry easterly wind that was driving the fire over the weekend has abated.
"And we don't have any "red flag" weather warnings for today."
Nichols said the cause of the incident remains under investigation, but law enforcement officials are following up a tip that a black, medium-sized SUV was seen near 1500 Road on Saturday, not far from where the fire began.
"It's suspected to be human-caused," Nichols said. "We've had no lightening strikes in that area."
At the height of the fire on Monday, approximately 700 people -- including personnel from 27 contract crews and seven inmate crews -- had been assigned to the blaze, along with 17 fire engines, 11 tenders, two bulldozers and four helicopters.
"About 600 people remain up there today," Nichols said. "We're also starting to send some of our heavy equipment and resources home."
The fire was never considered a threat to any residential properties, as the nearest home is roughly 10 miles from the site. Winnie Davies said she had a perfect view of the blaze from her home on Fishback Road.
"It looked red, hot and mean on Saturday night," she said. "But by Sunday morning, there was only a bit of light up there -- like a night light."
Kelly Carmichael lives 10 miles northeast of the fire and drove to Pedee to snap pictures.
"My wife called and told me she could see it while driving on Interstate 5," he said.
ODF's Western Oregon district is responsible for fire protection of 1.2 million acres of private and public forest land in Benton, Linn, Lincoln and Polk counties.
Despite the current blaze, Polk has had a tame fire season to date, said Doug Grafe, ODF plan section chief in Dallas. Crews have battled about a dozen fires in the region since May.
"It has been a quiet season because of periodic precipitation," he said. "This was the first 'red flag' warning we've seen this season."
A "red flag" warning means that weather conditions that increase fire danger -- high temperatures, winds and low humidity -- are happening now or will happen shortly.
So areas in the Pacific Coast range are still at risk, Grafe said.
"For the coast range, the greatest fire potential is late in the fire season," Grafe said. "The heavy fuel loads from the spring have had all summer to dry out."
Citizens with information regarding the cause of the 1500 Road Fire are encouraged to call the Oregon Department of Forestry office in Dallas at 503-623-8146.