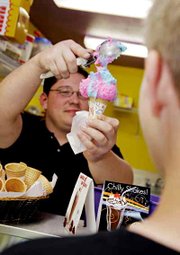 MONMOUTH -- The Scoop on Main Street opened its doors during one of the hottest, most active weeks of the year -- during the July 4 holiday.
"It was crazy. I had never attended a community event in Monmouth before and I came down to open the store up on (Western Days) parade day and there was already a line around the block," Nicholas Baker, one of the shop's employees, said.
Not surprising -- it was 98 degrees that day and people were milling about waiting for the annual parade. Umbrellas, coolers and chairs lined the streets between Monmouth and Independence, but nothing in a cooler could compete with ice cream.
That's what The Scoop specializes in: fresh, deliciously frigid ice cream.
The shop has quickly become a town favorite. It serves Tillamook and Cascade Glacier ice cream, though Baker said that after a "Scoop-off" contest a few weeks ago, the Tillamook may be fazed out.
"People almost unanimously agreed that the Cascade Glacier was better," Baker said.
Community input is important to The Scoop's owners. They want to cater to Monmouth's unique personalities and tastes. Baker has already solicited ideas from customers for various drink specials and is always open to recommendations.
"We went to the senior center and asked folks what their favorite soda fountain drinks were from when they were kids. Most of them I had never heard of, but we tried making them -- and one lady said ours was even better than the one she remembered," Baker said.
As a result there are some drinks on the menu named after members of the community. However, the store's most popular drink is still the Coffee Blaster.
"We started making it just with coffee ice cream, but one of our customers suggested we start putting real coffee in it," Baker said. "Now we do."
The Coffee Blaster is basically a milkshake made from a choice of ice creams with strong, almost espresso-like coffee mixed in. It is very popular with the college crowd that is starting to fill the campus.
Baker isn't too worried about fall, winter and the drop in temperature affecting ice cream sales. He's confident that college students can be counted on for late-night snack runs, and The Scoop is open until 11 p.m.
"If nothing else, we'll make gourmet hot chocolate," Baker said.
The Scoop is open from 11 a.m. to 11 p.m. seven days a week. It is at 109 Main Main Street just east of the Western Oregon University campus.