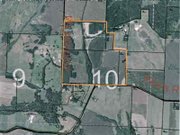 POLK COUNTY -- Areas in Polk County are being eyed as potential locations for a national cemetery for military veterans.
The U.S. Department of Veterans Affairs is seeking to build a new cemetery within the next few years that would serve the populations of Northwest Oregon and Southwest Washington.
Three of four sites that have been mentioned by county, state and federal officials as possibilities are in the Willamette Valley.
One is a 277-acre parcel of farm land owned by the USDA Forest Service off Zumwalt Road southwest of Monmouth. Another mentioned - but far less likely - local candidate is the Baskett Slough area.
Other options are an unspecified site in Marion County and Camp Bonneville near Vancouver, Wash.
VA representatives are expected to tour the Oregon sites this week. The agency will ultimately decide where a new facility goes, though no deadline has been set, said Bill Jayne, development coordinator for the National Cemetery Administration.
"There's been substantial planning and site identification work done at this point, with participation at all government levels," said Jim Willis, director of the Oregon Department of Veterans Affairs. "There are many good reasons to have this in Oregon, wherever it goes."
Polk County leaders, meanwhile, are actively lobbying for the Zumwalt Road site.
"Everybody here sees that this would be a real asset to our region," Independence Mayor John McArdle said. "And it would be an honor, because we have many veterans in the valley."
The VA National Cemetery Administration maintains 125 cemeteries in the United States.
The Willamette National Cemetery in Portland was established in 1950 and has nearly 130,000 interments. It is the largest of Oregon's three facilities - the others are in Eagle Point and Roseberg.
Earlier this year, Willamette's director notified state officials that the 269-acre cemetery would run out of space by 2013, and that more land in the region was needed, Willis said.
"People might think 2013 is a ways off, but it isn't," Willis said, "by the time you acquire a site, prepare it, put in the necessary landscaping and plumbing ... it takes several years."
Proximity to veterans is a key factor in the selection process for national cemeteries. Jayne said a standard used by the VA is that the distance of a facility to a major veteran population center should be within about 75 miles.
Other criteria include sufficient space, available utilities and water, topography, aesthetic appearance and whether the property is near a major highway or road.
"The target is to have 400 acres in this general area (the Willamette Valley)," Willis said. "And there aren't 400 acres that lend themselves to this use."
Officials identified land near Canby earlier this year, but it proved too costly to develop, said Paul Evans, military policy advisor to Gov. Ted Kulongoski.
"At that point, we were concerned that (Oregon) might lose this, so we started talking to people in different communities," Evans said.
Independence leaders learned of the search this summer and contacted Polk County Commissioners. The contingent identified 277 acres of USDA farm land near the junction of Elkins and Zumwalt roads, 7 miles southwest of Monmouth. Commissioner Mike Propes said the property is close to Highway 99W, and is served by the Luckiamute Water District and Monmouth Power & Light.
"It has a beautiful view of the valley in both directions and would lay out nicely for a cemetery," Propes said.
Propes said he believes another selling point is that the site is already federally owned; a transfer of property between government agencies would be preferable to the VA having to negotiate a price or donation with a private landowner, he said.
Propes said examining whether part of Baskett Slough National Wildlife Refuge could be used for a cemetery was posed during early discussions, but the site hasn't received any serious consideration.
"Some congressional people were going to see if there was a piece that wouldn't affect wildlife," he said. "But the focus has been on this (the Zumwalt Road) piece ... we've had a lot of interest on it."
"Our administrative office is also looking to see if there are other ways we can help," Propes said. "If we need road improvements, for example, we can see what we can do right now, while we're in the middle of our road projects.
"It would be a real honor to have something like this in the county."