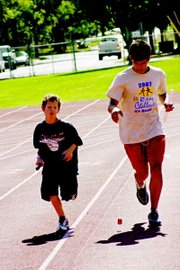 PENTACLE THEATER
324 52nd Ave. NW, Salem
503-485-4300
* Sept. 28-Oct. 20 -- Miss Julie, classic drama. Intense, long one-act tragedy by August Strindberg, set in 1888, explores class differences, gender roles and sexuality.
* Nov. 9-Dec. 1 -- Gypsy, musical. The ultimate "stage mother" dreams of show business careers for her daughters. Feature songs include "Let Me Entertain You" and "Everything's Coming Up Roses."
* Jan. 11-Feb. 2 -- The Sunshine Boys, comedy. By Neil Si-mon. Aged former vaudevilleans have to put aside their mutual enmity to reunite for a TV special.
* Feb. 23-March 15 -- The Diviners, drama. By Jim Leonard Jr. Poignant Depression-era story of a drifting preacher and a mentally disturbed boy with a gift for finding water. Each helps the other discover faith and trust.
* April 4-26 -- Original debut: Dorian - The Remarkable Mr. Gray, musical. An adaptation of Oscar Wilde's Victorian horror novel The Picture of Dorian Gray. Book, music and lyrics are by Pentacle's Randy Bowser.
* May 16-June 7 -- Betty the Yeti, satire. By John Klein. A hilarious "eco-fable" set in the Pacific Northwest. Environmentalists vs. loggers conflict is interrupted by the discovery of a quick-learning Sasquatch.
* June 28-July 19 -- Doubt, a Parable, drama. By John Patrick Shanley. Gripping examination of suspicions and moral certainties at play in a catholic school in the Bronx. Won the 2005 Pulitzer Prize for drama and Tony Award.
* Aug. 22-Sept. 13 -- Guys and Dolls. musical comedy. Upbeat classic about 1950s New York nightclub gamblers, petty criminals and the soul-saving mission doll Sarah Brown. The five-category Tony winner in 1951 is still playing, now in London.
* Oct. 3-25 -- Corpse!, mystery/comedy. By Gerald Moon. In 1936 London, a nefarious plan goes awry, leading to a brilliant combination of suspense and side-splitting fun. The New York Post said, "You may die laughing."
* Nov. 14-Dec. 6 -- Mrs. Cratchit's Wild Christmas Binge, parody. By Christopher Durang. Scrooge never went on a Christmas Eve journey like this rollicking ride that parodies "Oliver Twist," "The Gift of the Magi," "It's a Wonderful Life" and more.
--
SALEM REPERTORY THEATER
Reed Opera House
503-302-8907
* Oct. 4-21 -- Putting It Together, musical comedy. By Steven Sondheim. Delightful revue featuring more than two dozen songs.
* Nov. 29-Dec. 3 -- It's a Wonderful Life: A Radio Play. By Joe Landry. The classic story done a different way, from the set of a 1946 radio studio.
* Feb. 14-March 2 -- Fat Pig. By Neil LaBute. Sharp comedy/drama about love conquering all and society's hangups with appearance.
* May 1-18 -- Moonlight and Magnolias. By Ron Hutchinson. Comedy takes audience into inner sanctum of 1939 Hollywood production moguls.